MAGIC, Optimism and Stargate Finance have rallied beyond 20% after the US Federal Reserve's policy meeting on Wednesday.
While MAGIC and Optimism are entering price discovery phases, STG has a long way to go.
The rallies, while impressive for all three altcoins, are facing crucial hurdles and could trigger a correction.
Optimism (OP), MAGIC (MAGIC) and Stargate Finance (STG) are the top gainers in the last 24 hours. The rally in these altcoins can be attributed to the volatility generated by the US Federal Reserve's interest rate decision at their policy meeting on Wednesday.
Although the Fed's official statement was interpreted as hawkish as it stated interest rates would need to remain high, comments from the US fed Chairman Jerome Powell in the press confernece afterwards triggered a U-turn in market perceptions after he suggested rate hikes were having a subduing effect on inflation. "For the first time, we can declare that a deflationary process has begun," said Powell, which immediately turned sentiment negative for the US Dollar and triggered a rally in risk-on assets like Bitcoin and stocks.
Also read: Fed remains hawkish with 25 bps hike, how will Bitcoin price react?
Can altcoins keep their gains?
MAGIC has the highest gains of 37% among the three altcoins. Stargate Finance comes in second at 34% and Optimism at 28%. While the returns on these altcoins are impressive, investors need to be cautious as Bitcoin, the largest cryptocurrency by market capitalization is showing cracks in its armor.
Let's take a look at MAGIC altcoin and what to expect from its price action.
MAGIC price hit an all-time high of $1.787 as of February 2, and the 29% daily candlestick that precedes it is an impressive move. Given the short-term bullish trend long bets are favoured. Using the trend-based Fibonacci extension tool, investors can note that the next target and potential hurdle is at around $1.900, which is the 100% Fibonacci extension level.
Depending on the daily candlestick close on February 2, investors can decide if they want to hop on a long position or turn short.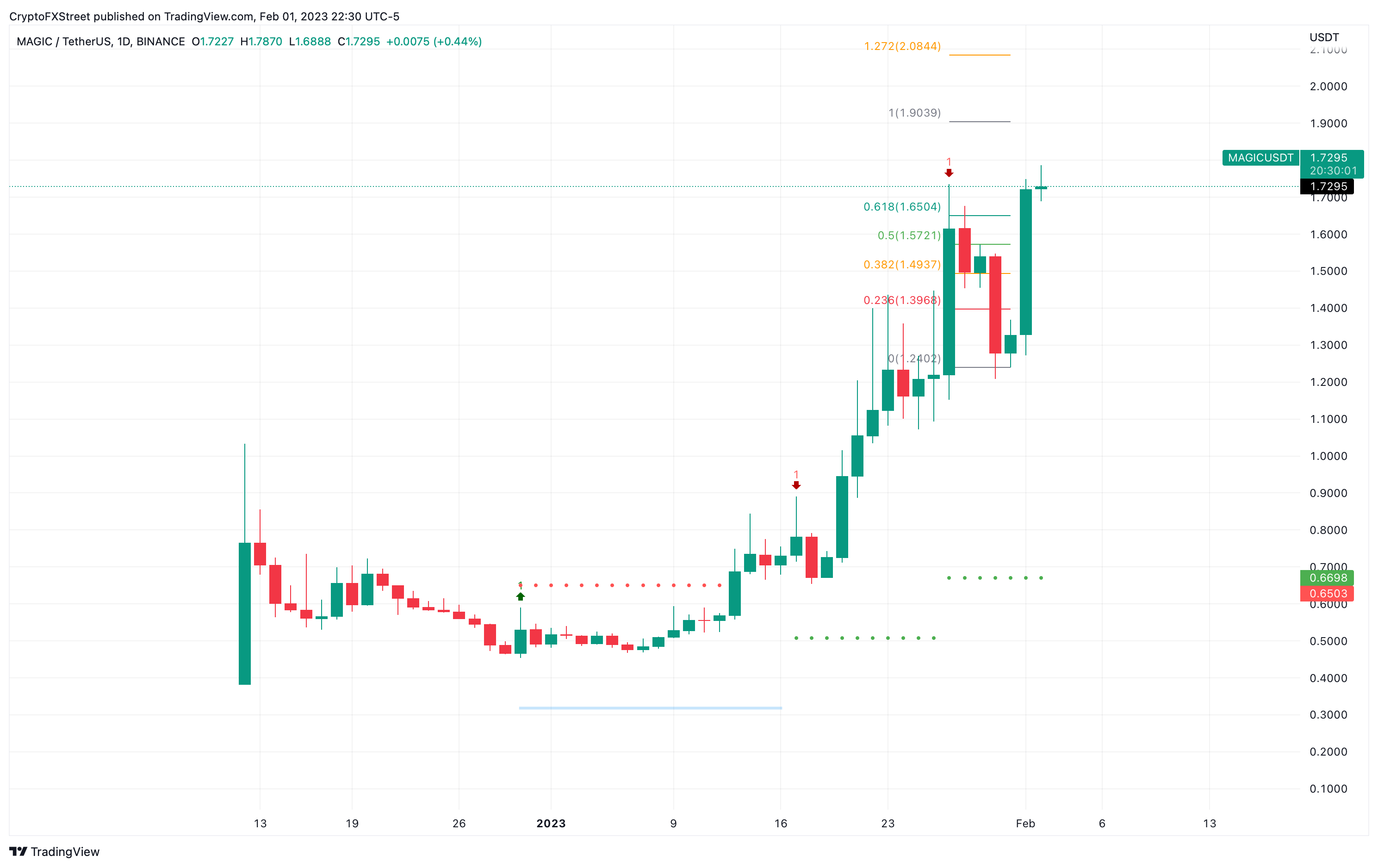 MAGIC/USDT 1-day
If the current candlestick develops into a doji, the likelihood of a reversal becomes higher. If a pullback gathers steam MAGIC could retrace to the 50% Fibonacci retracement level at $1.570.
Stargate Finance price hit a peak of 34% after the FOMC meeting. In doing so, STG tagged the state trend resistance level at $0.800. If there is a massive rejection, causing a small body for a daily candlestick or if it flips into a down candlestick, it is indicative of profit-taking. In such a case, Stargate Finance could witness a 15% drawdown, pushing it down to $0.658.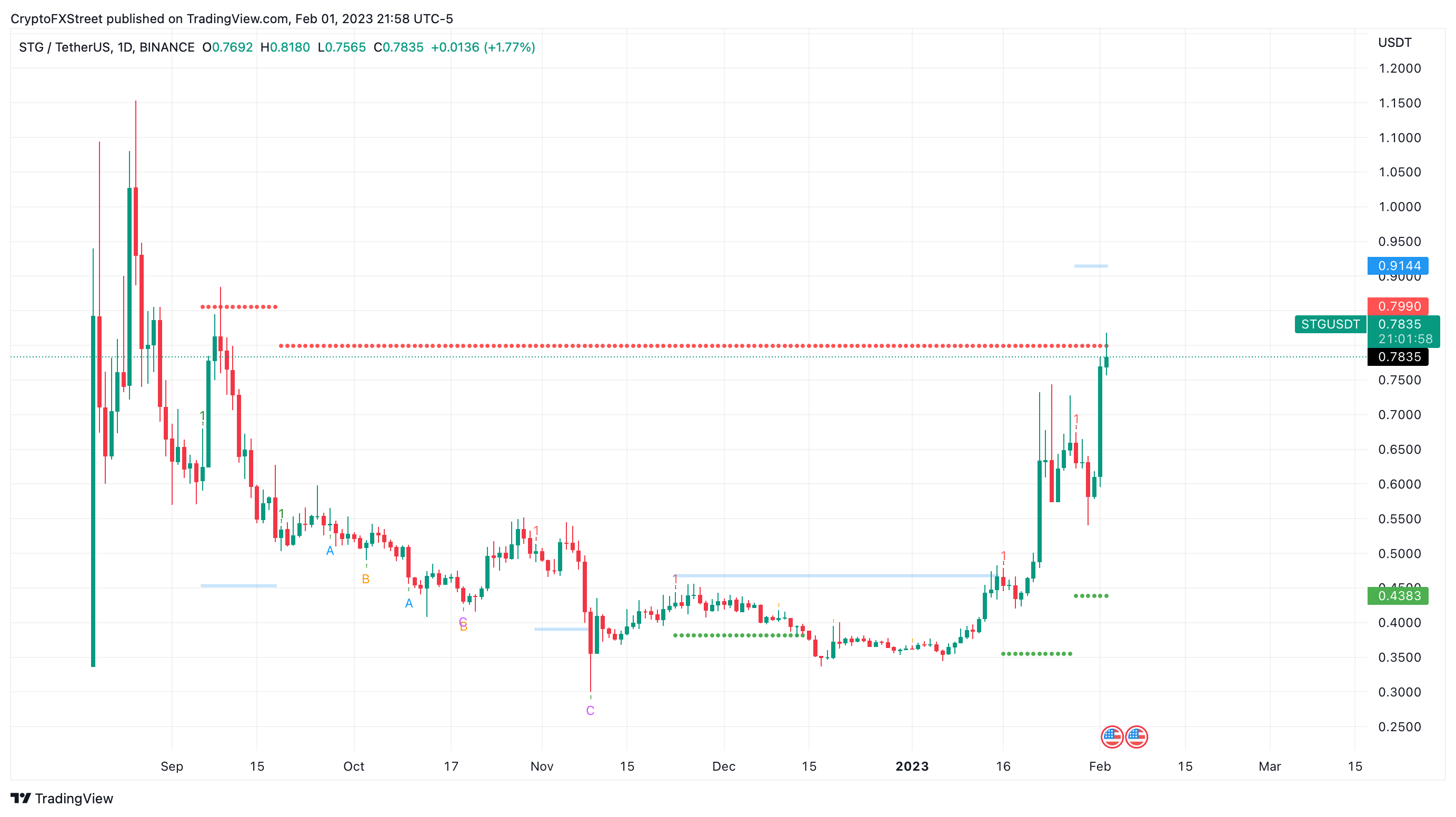 STG/USDT 1-day chart
On the other hand, if $0.800 is flipped into a support floor, the next hurdle for STG is 14% away at $0.914.
Optimism price has hit an all-time high of $2.81, but the daily candlestick has already flipped red, denoting a spike in selling pressure. Continued profit-taking will result in an 11% downswing to $2.38, which is the 50% Fibonacci retracement level.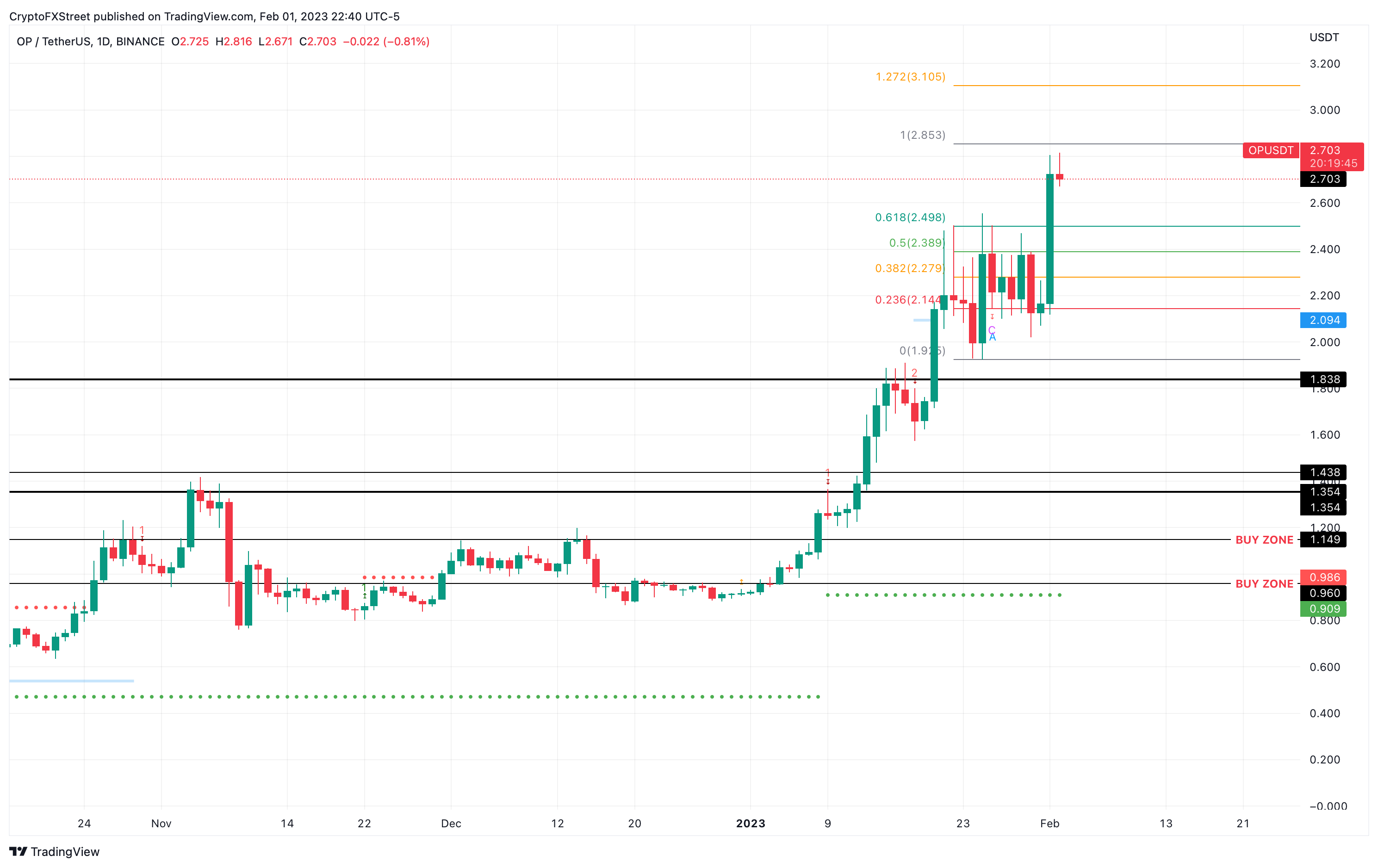 OP/USDT 1-day chart
A sustained buying pressure that flips the $2.81 hurdle into a support floor could see OP price tag the 127.2% Fibonacci extension level at $3.10, marking another all-time high.