The market panic that ensued after the collapse of Sam Bankman Fried's FTX exchange in early November seems to be abating.
The three-month Bitcoin (BTC) futures listed on the Chicago Mercantile Exchange (CME), widely considered a proxy for institutional activity, are drawing a premium over the cryptocurrency's going spot market price for the first time since FTX went bust.
The renewed premium indicates that institutional activity is no longer concentrated on the short side. The CME futures fell into a record discount in mid-November as sophisticated traders took bearish bets to hedge against a deeper FTX-induced slide in the leading cryptocurrency.
Bitcoin, however, has been more resilient than expected over the past two months, with the downside capped at around $16,000.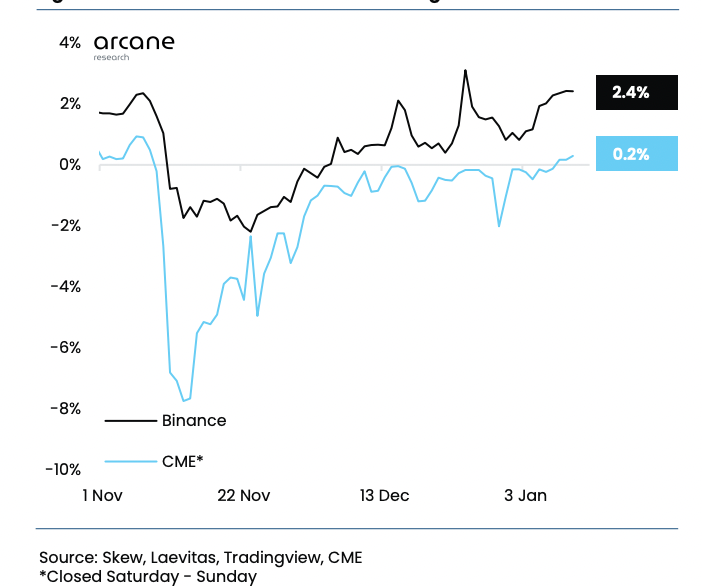 Basis refers to the difference between futures and spot prices. (Arcane Research/TradingView) (Arcane Research, Skew, Laevitas, CME, TradingView)
The three-month CME futures traded at an annualized premium of 0.2%, while their Binance counterparts drew a premium of 2.4%.
The CME futures term structure – the difference between futures of different maturities at a given time point – remains inverted or in backwardation, according to Arcane Research.
In other words, farther-month contracts continue to trade at prices lower than near-month contracts, an anomalous condition, considering prices are generally higher at the long end of the curve.
"While CME's basis has recovered, the term structure remains in backwardation as institutional investors maintain a cautious view on bitcoin and less liquid further dated expiry dates," Arcane Research's Bendik. Schei and Vetle Lunde wrote in a note to clients.