The Commodity Futures Trading Commission stated that Mango Market exploiter, Avraham Eisenberg, used deception to inflate native token MNGO prices.
Eisenberg declared that his actions were legal after he was arrested in late 2022 and is currently awaiting trial.
Solana price has skyrocketed in the new year, rising by nearly 70% in the span of ten days.
Solana-based decentralized exchange (DEX), Mango Markets, was the victim of an exploit three months ago that led to the DEX noting $116 million worth of liquidations. By manipulating the price of Mango Market's native token, MNGO, exploiter Avraham Eisenberg attempted to get away with millions of dollars before being arrested by the authorities.
Solana DEX exploiter faces CFTC
Wiping out over $100 million by manipulating the market, Eisenberg established a case of manipulation and deception as well as false inflation of an asset against himself. The Department of Justice acted on the information, and the exploiter was arrested last year and has since been detained as he awaits trial.
Joining the Justice Department is the Commodity Futures Trading Commission (CFTC), which filed a lawsuit against the exploiter on Monday. As per the CFTC, Eisenberg was in violation of the federal commodities law as he inflated the price of the native token MNGO by using a "manipulative or deceptive device".
Eisenberg, following his arrest, stated that he believed that his actions were legal and that he was working to return a part of the funds he exploited to Mango Markets. However, his public admittance of the manipulation scheme led to the authorities finding the exploiter in violation of the law. In regards to the same, the CFTC stated,
"Contrary to his purported belief that his actions were legal, in fact, they constituted blatant manipulation of spot prices and swaps."
Solana price notes an uptick
Solana price began 2023 by kicking off a rally that raised the value of the cryptocurrency from $9.63 to $16.48 at the time of writing. Registering an almost 70% increase in price, SOL is inching close to the $20 mark.
Solana price needs to mark another 16% rise in order to tag and flip the $18.96 resistance into support. This will allow the altcoin to engage in a recovery from this point onward. However, if the bullishness subsides and the prices correct, SOL would have failed to flip its immediate resistance at $16.12 into support.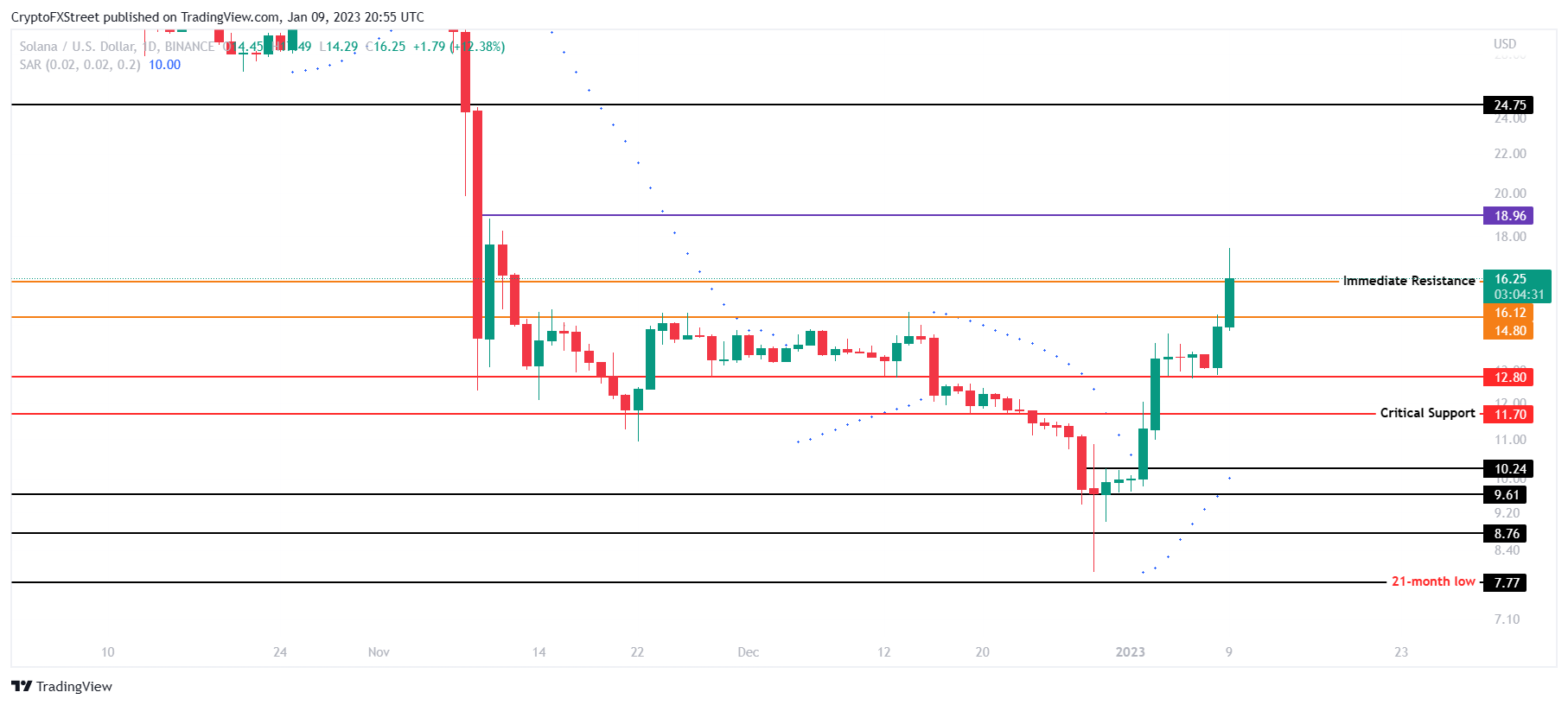 SOL/USD 1-day chart
A further decline could result in the cryptocurrency tagging the critical support at $11.70. Losing it would invalidate the bullish thesis, pushing the price back to where it was at the beginning of the year.