Coinbase had been facing scrutiny as its anti-money laundering program fell behind its demand growth.
As per the New York Department of Financial Services, by the end of 2021, Coinbase had over 100,000 unreviewed transactions.
Following the settlement, Coinbase's stock COIN value shot up by almost 12%.
Coinbase had a run-in with the regulators back in 2021 following reports of unidentified customers and failure to monitor their activity. Finally coming to an end, the case reached a settlement with Coinbase also committing to improving its compliance strategies.
Coinbase pays penalty to US regulators
Coinbase, following the settlement with the New York Department of Financial Services (NYDFS), will be shelling out $100 million. Of this, $50 million will be paid as a fine to the regulatory authorities, and the other $50 million will be used by Coinbase to invest in its compliance program.
The sudden expansion of business resulted in the cryptocurrency exchange's anti-money laundering (AML) compliance program falling behind, leading to irregularities in Coinbase's review of customer identities and alerts on transactions from 2020 to 2021. The New York Department of Financial Services elaborated on the same, stating,
"By the end of 2021, Coinbase had a backlog of unreviewed transaction monitoring alerts grew to more than 100,000 (many of which were months old), and the backlog of customers requiring enhanced due diligence ('EDD') exceeded 14,000."
According to the NYDFS, Coinbase had a lack of adequate personnel and resources necessary to keep up with the alerts. This led to the backlog, which rapidly grew to "unimaginable levels".
The beginning of 2023 came with good news for Coinbase, even though 2022 did not pan out as per expectations. As reported by FXStreet last month, Coinbase CEO Brian Armstrong stated that the company was anticipating a 50% decline in the exchange's revenue in 2022 following FTX's collapse.
Coinbase's COIN goes up
While the impact of this settlement is yet to reach the crypto market, Coinbase's stock value shot through the roof. COIN rallied by almost 12%, trading at $37.82. Coinbase investors breathed a sigh of relief as the spike came after the stock noted a drawdown of almost 70% in the second half of 2022.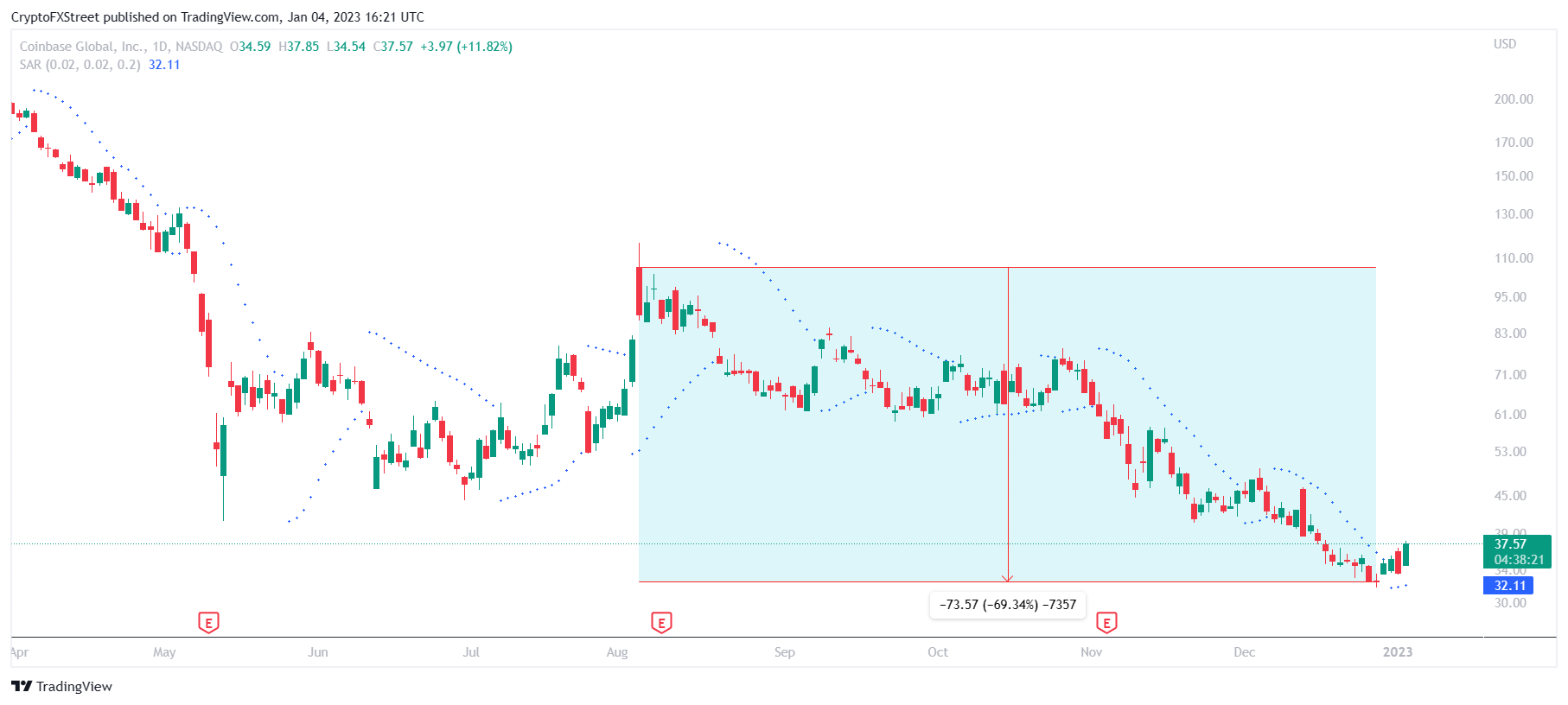 Coinbase (COIN) 1-day chart
Declining from $106, COIN fell to its all-time low of $31.83, with the downfall of FTX and Alameda Research making things worse for the cryptocurrency exchange.