Alameda Research blamed Voyager Digital for its role in the FTX bankruptcy, calling it a feeder fund.
Court filings show that Alameda Research is looking to recover the loan repayments it made to Voyager.
FTT price followed the broader market cues, remaining sideways bound around the $2 mark.
The FTX saga took a rather interesting turn on Monday after the bankrupt cryptocurrency exchange's sister company, Alameda Research, filed a lawsuit against another bankrupt crypto lender, Voyager Digital. Seeking recovery of the loan repayments made by Alameda, the company dragged Voyager to court.
FTX, Alameda Research and Voyager Digital
FTX-linked Alameda Research, in a court filing on Monday, demanded to regain the loan repayments it made to Voyager Digital. Amounting $445.8 million, the repayments were made just prior to Alameda's own bankruptcy filing.
Alameda had made the transfers to Voyager Digital after the crypto lender filed for bankruptcy protection. However, at the moment, Alameda is shifting the blame to Voyager itself, claiming that the crypto lender had a hand in FTX's collapse.
As per court documents, Alameda called Voyager a feeder fund and that little to no due diligence was conducted before it invested retail clients' money.
The filing further added,
"Largely lost in the (justified) attention paid to the alleged misconduct of Alameda and its now-indicted former leadership has been the role played by Voyager and other cryptocurrency 'lenders' who funded Alameda and fueled that alleged misconduct, either knowingly or recklessly."
Alameda, in the lawsuit filing, specified that the loans made out by Voyager to the company were in the form of crypto assets, including Bitcoin, Ethereum, Litecoin, Dogecoin, USD Coin (USDC) and more. Going forward through the lawsuit, Alameda intends to recover the $445.8 million and any additional amount, including the legal fees.
FTT price loses its uptrend momentum
FTT price is bound to the rest of the crypto market as the altcoin painted another red candle on Monday to keep the cryptocurrency in a sideways momentum. While it may have invalidated the uptrend, at the moment, FTT is not facing any major selling, keeping its price around the $2 mark.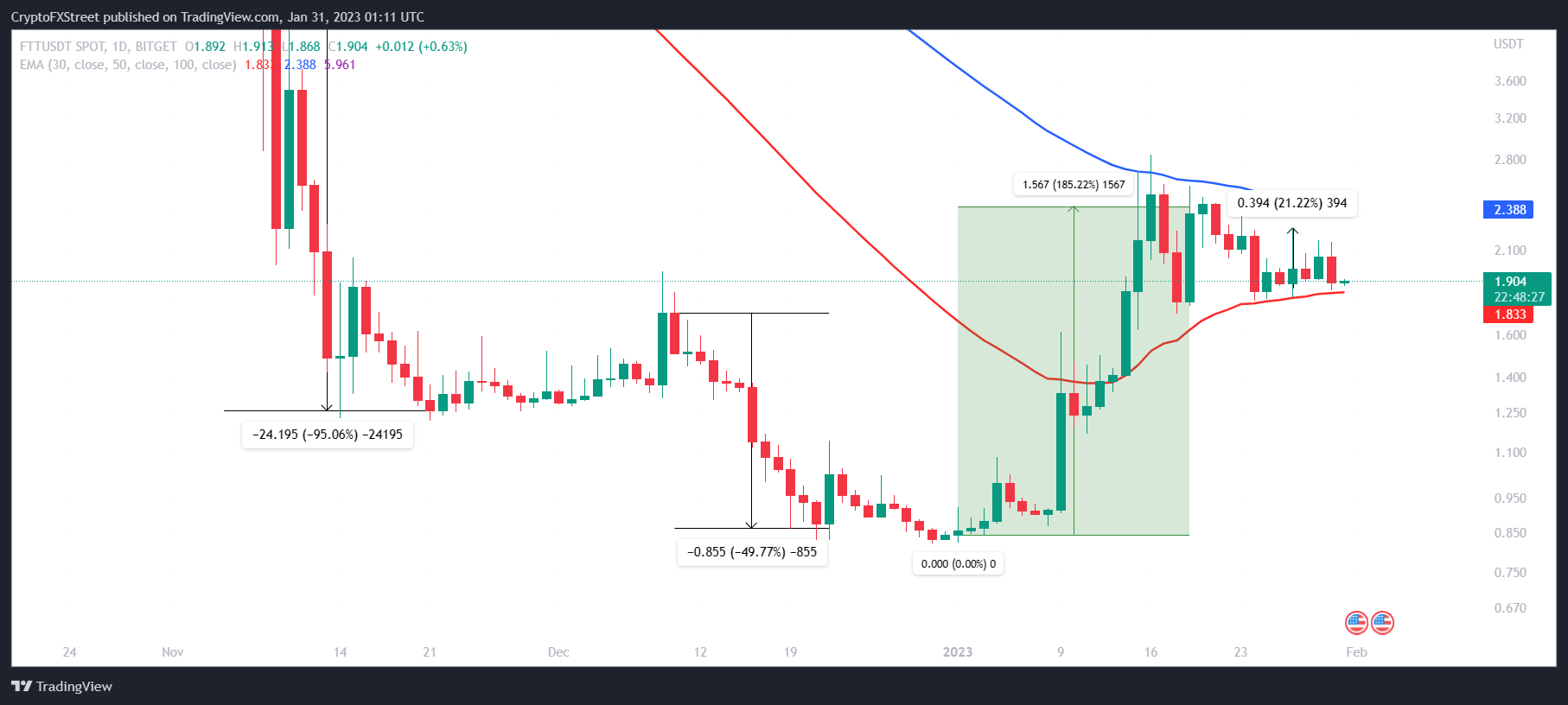 FTT/USD 1-day chart
Although FTT is more susceptible to a price fall than any other asset due to the uncovering of new information related to FTX's bankruptcy proceedings, the bullishness in the broader market should keep the asset safe from a significant decline.