Dogecoin has yielded 40% gains for holders since December 29, and the meme coin is back above $0.095 for the first time since December 10.
Dogecoin whales engaged in high activity with transactions greater than $100,000 hitting a peak on January 31.
DOGE holders are bullish on the meme coin's adoption in crypto payments as Elon Musk plans to bring payment capabilities to Twitter.
Dogecoin, the largest meme coin in the crypto ecosystem, has yielded nearly 40% gains since December 29. The token has witnessed a massive spike in whale transactions, hitting the highest volume of the year alongside address activity.
Also read: US SEC accepts LBC token is not a security, renews hope of Ripple's win in XRP community
Dogecoin whales increase volume of their transactions
Dogecoin, one of the largest meme coins in the crypto ecosystem, yielded massive gains for holders since December 29. DOGE price climbed 40% and made a comeback above the $0.095 level since December 10.
Based on data from crypto intelligence tracker Santiment, large volume transactions worth $100,000 or more crossed 523. There are 86,400 active addresses on the DOGE network, marking the busiest time of the year for the meme coin.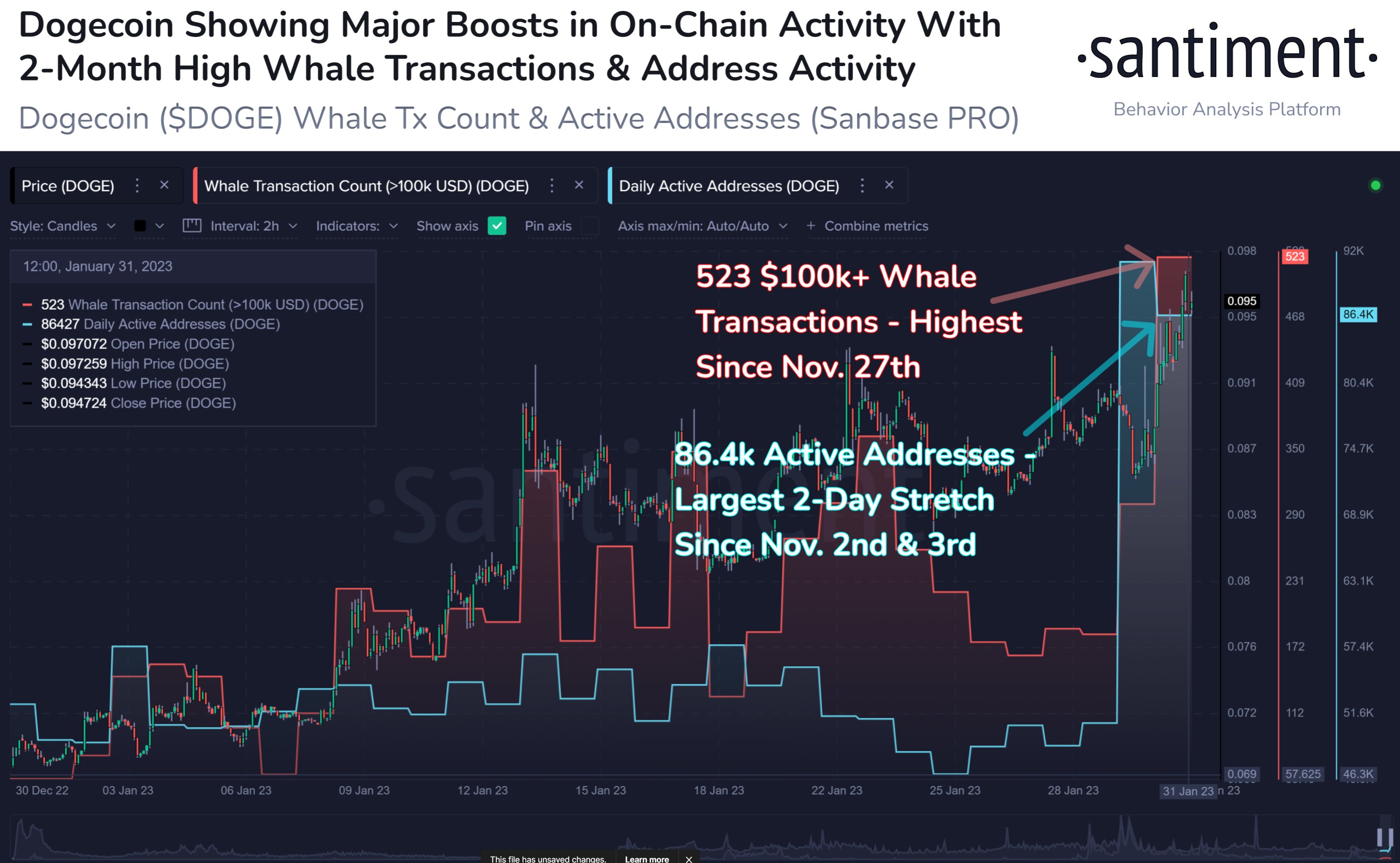 Dogecoin sees spike in whale activity and large volume transactions
Typically, large wallet investors scoop up the meme coin during the dip in its price and a spike in activity by whales is indicative of profit-taking by DOGE traders. As seen in the chart above, the increase in large volume transactions and whale address activity is followed by a retracement in DOGE price.
It is likely that DOGE price could witness a pullback in the first week of February. After climbing past the $0.095 level for the first time in 2023, DOGE is likely to undergo a correction in its price as whales shed their holdings and take profits.
Elon Musk's Twitter plans act as bullish catalyst
DOGE holders are bullish on Elon Musk's plans to boast the capabilities of social media platform Twitter and add payment features to the app. As Musk applies for a license to turn Twitter into a payment app, the Dogecoin community remains hopeful of DOGE's addition as a payment option on the social media platform. Recent developments have therefore acted as a catalyst and fueled a bullish narrative among DOGE holders.