META's share price is up almost 20%, with Mark Zuckerberg's commitment to increasing Meta's profitability.
Despite losing $13.7 billion in 2022, Meta's Reality Labs unit developing the metaverse has yet to make cost-cut plans.
Metaverse tokens Decentraland, Axie Infinity, The Sandbox, Magic and Illuvium yielded massive gains since Meta's earning announcement.
Meta share price, formerly Facebook, rallied 20% as Wall Street cheered the earnings report after a 64% decline in 2022. Mark Zuckerberg's metaverse unit lost $13.7 billion in 2022; despite massive losses, Zuck's commitment to increasing profitability is driving the stock price higher.
Zuckerberg's commitment to the metaverse has triggered a rally in Decentraland (MANA), Axie Infinity (AXS), The Sandbox (SAND), Enjin Coin (ENJ), Magic (MAGIC) and Illuvium (ILV). Metaverse coins yielded nearly double-digit gains since Meta's earnings report announcement.
Also read: Fed remains hawkish with 25 bps hike, how will Bitcoin price react?
Meta CEO Mark Zuckerberg is steadfast on his metaverse plans
Mark Zuckerberg, CEO and founder of Meta, says that the company has no plans to roll back its long-term strategy for the metaverse. Despite losing $13.7 billion in 2022, Meta's Reality Labs unit developing the metaverse has no cost-cut plans.
On an earnings call on February 1, Zuckerberg affirmed his commitment to building crypto's metaverse. In response to a question on the firm's efficiency in how it applies to the Reality Labs unit, Zuckerberg said,
None of the signals that I've seen so far suggest that we should shift the Reality Labs strategy long term.
Susan Li, the firm's chief financial officer, doubled down on the metaverse unit and said:
We still expect our full-year Reality Labs losses to increase in 2023, and we're gonna continue to invest meaningfully in this area given the significant long-term opportunities that we see.
Meta's revenue for Q4 2022 beat Wall Street expectations at $32.1 billion, and Zuckerberg's commitment to cut costs and increase efficiency drove its stock price higher.
US Federal Judge approves tech giants acquisition of virtual reality company
Meta, formerly Facebook, has faced an "anticompetitive conduct" complaint by the US Federal Trade Commission (FTC). According to a February 1 report from Bloomberg, Judge Edward Davila in the US District Court for the Northern District of California denied an injunction by the FTC to block Meta from purchasing VR firm within.
While Judge Davila issued a temporary restraining order to prevent Meta from closing the deal for at least a week, the ruling was part of a lawsuit filed by the FTC against the firm. Zuckerberg's ultimate goal is to "own the entire metaverse."
With anticompetitive conduct lawsuits behind it, Meta is ready to acquire virtual reality firms and metaverse companies to "buy out the competition." It remains to be seen whether this is a bullish or a bearish development for metaverse tokens.
MANA, AXS, and SAND rally in response to Meta's earnings report
The top 10 metaverse tokens with the largest market capitalization have rallied following Meta's earnings report. It is likely that the tokens are riding the bullish sentiment among altcoin traders. Magic (MAGIC) and Illuvium (ILV) have yielded double-digit gains while Decentraland (MANA) yielded 5% gains overnight.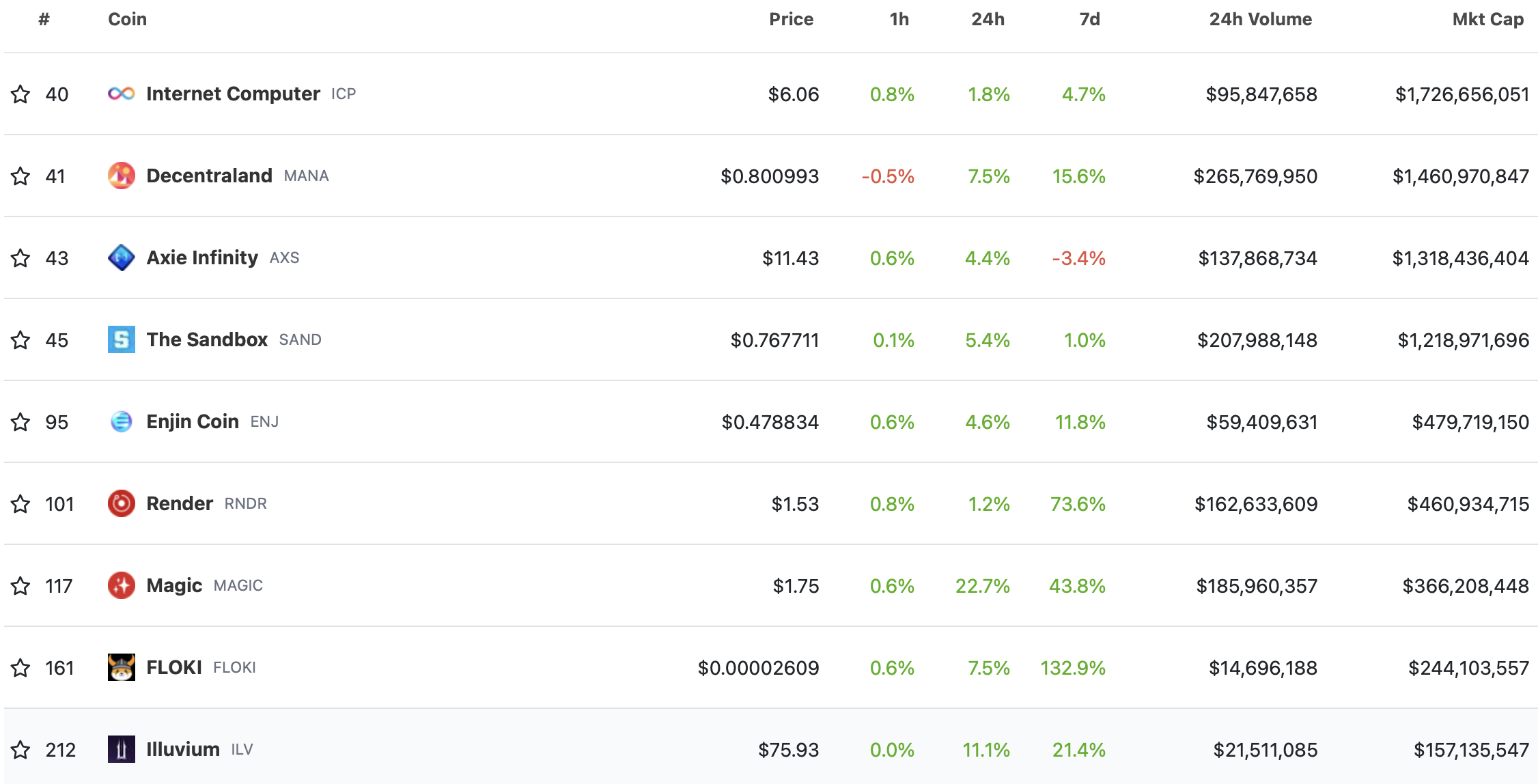 Metaverse tokens rally after Meta's earning report
With the recent rate hike by the US Federal Reserve and Fed Chair Jerome Powell's hawkishness, the gains in altcoins and metaverse tokens could be wiped out soon, unless there is a bullish catalyst driving prices higher.