Uniswap price has rallied by 8% since the start of the new year.
UNI partners with Moonpay, successfully launching Uniswap's first Fiat-to-Crypto onboarding system.
The bulls have crossed over two key moving averages, citing the potential for a challenge of December's swing high.
Uniswap price recent countertrend attempt could be the start of a much larger move. Market sentiment also seems high in favor of a bullish outcome as per UNI's recent tech partnership with Moonpay.
Uniswap price signals optimism
Uniswap price is worth keeping an eye on during the early stages of 2023. Since January 1, the UNI price has risen by 8% as the bulls have reconquered December's broken support zone. The move north has shown confounding evidence to suggest that more gains will be made in the coming weeks.
Uniswap price currently auctions at $5.56. The recent hike has enabled the bulls to blow past the 8-day exponential and 21-day simple moving averages. Based on classical technical analysis methods, the Ethereum-based DEX token should be shown enough evidence to challenge higher liquidity levels. The next key area to aim for would be a 61.8% retracement level of December's trading range at $5.88 for an additional 8% rise. The second target would be December's swing high at $6.55, an 18% hike from UNI's current market value.
The bullish technicals come at an optimistic time in the market for Uniswap investors. On December 20, UNI developers announced their partnership with the financial tech company Moonpay. The duo successfully launched Uniswap's first fiat-to-crypto onboarding system.
The new implementation gives investors access to a wide variety of cryptocurrencies that can be purchased with a debit card, credit card or bank account directly from the Uniswap Web App. The software implementation solves a core issue for newcomers and crypto enthusiasts looking to invest on the fly quickly.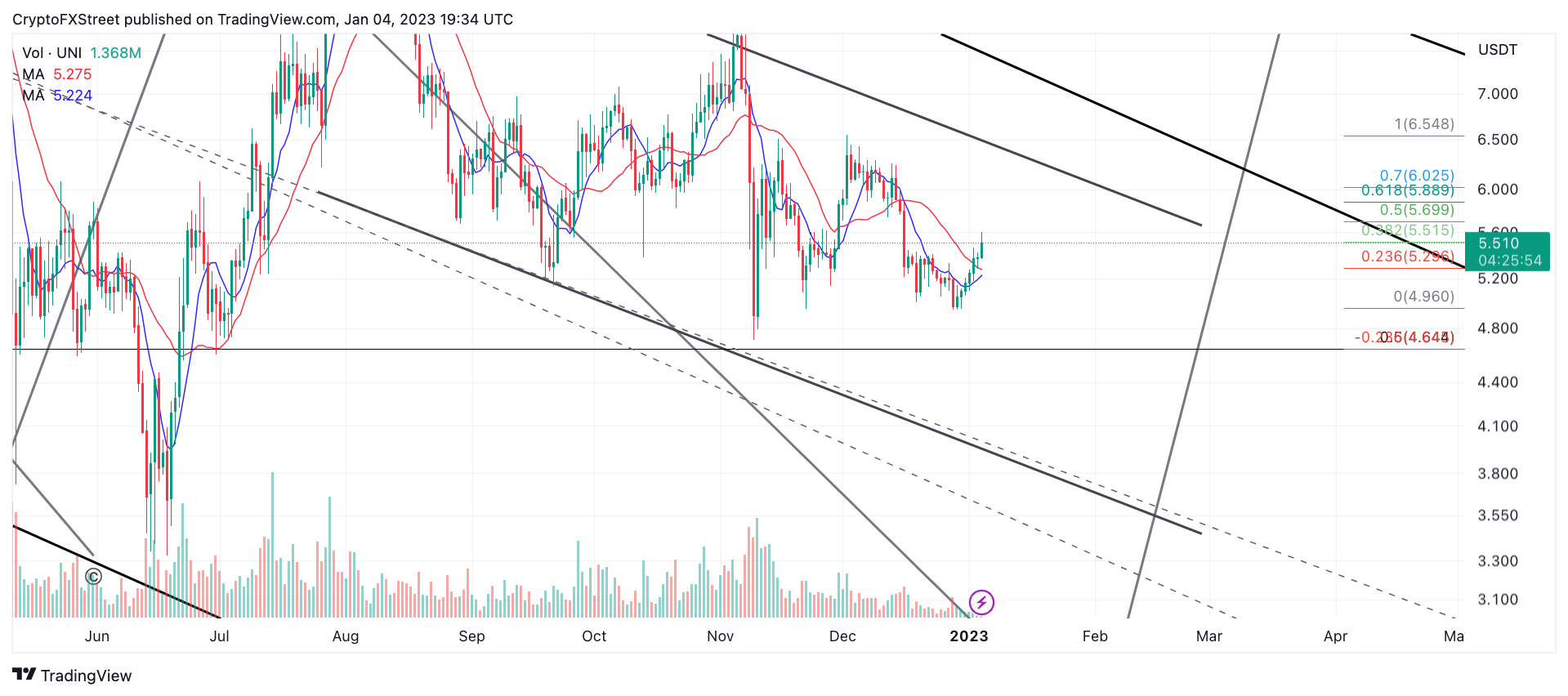 UNI/USDT 1-day chart
Considering these factors, UNI seems very promising in the short term. However, a swipe below the $4.60 liquidity zone could wreak havoc on the bullish momentum. If the breach occurs, the UNI price could continue south in the coming months to challenge the 2022 yearly low at $3.30. The Uniswap price would decline by 40% if the bears were successful.