XRP price rose by 3%, but upswing shows hidden bearish cues.
The bears could flex a decline toward the mid-0.30 zone in the coming days.
A breach above $0.422 would invalidate the bearish thesis.
XRP price shows a retaliation spike after experiencing the largest red day of the month. This thesis utilizes technical analysis to gauge Ripple's next potential move.
XRP price more bearish than meets the eye
XRP price rose 3% on January 31. The pullback in price comes one day after Ripple's largest red day of the month, as the bears flexed a 5% decline on January 30. Still, the bull surge may not have been enough to combat the bearish potential.
XRP price currently auctions at $0.40. The Relative Strength Index (RSI) forecasts market bottoms and tops by assessing previous rallies. The RSI shows that bullish momentum is diverging on January 30, which justifies the current countertrend move.
However, significant resistance lies above the price zone when analyzing where the current swing point has landed on the RSI. For instance, during XRP's 30% rally this month, the consolidations have occurred near the 62 level and above. XRP maintained its price above $0.38 during each consolidation.
At the time of writing, the XRP price hovers at $0.40, but the RSI is suppressed below 55. This loss in upward momentum is easily missed by the untrained eye. Considering these factors, the origin point of the previous consolidation near $0.36 cents may face a challenge in the coming days The bearish scenario creates the potential for a 10% decline from XRP's current market value.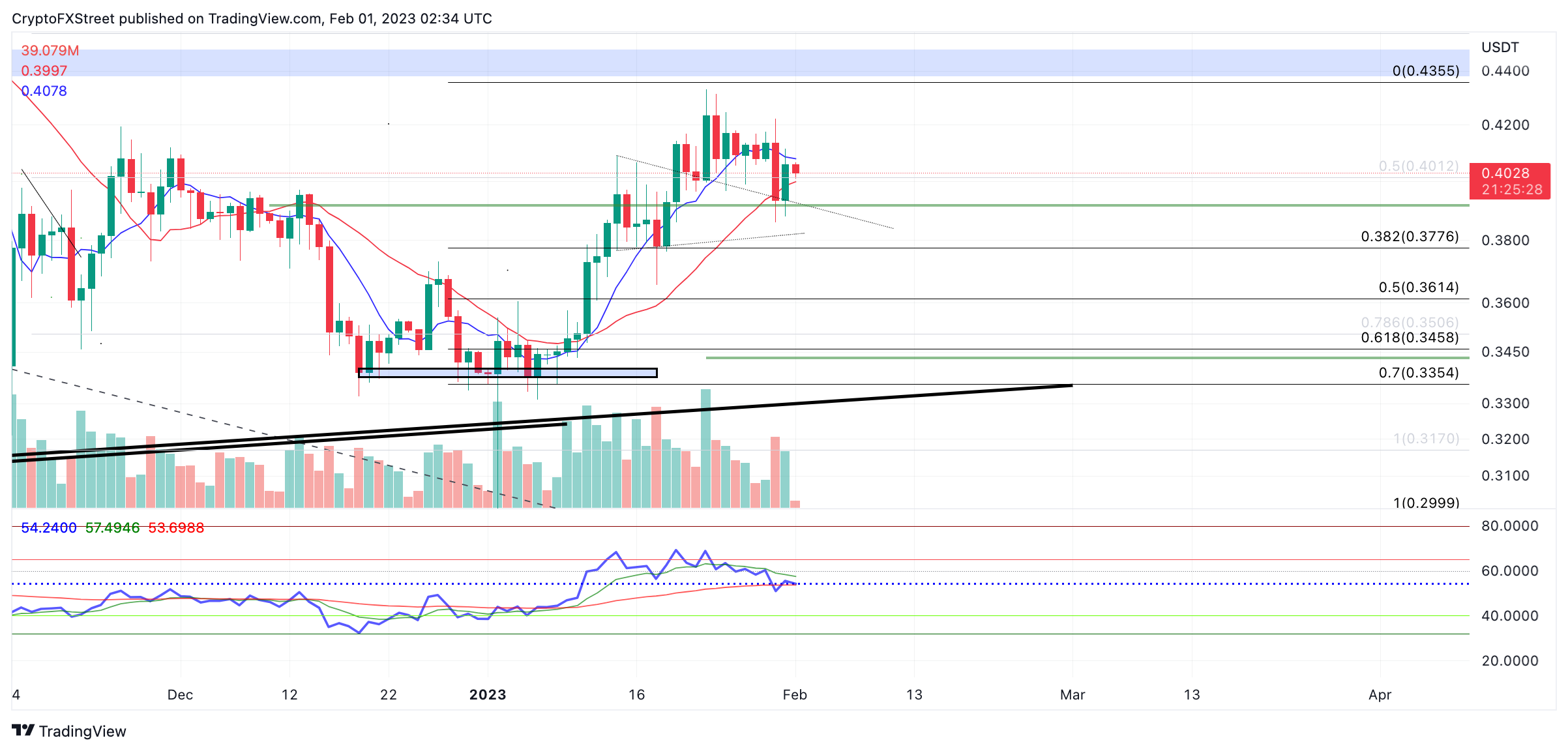 XRP/USDT 1-day chart
Invalidation of the bearish thesis could arrive from a breach above the largest red day of the month's candlestick high at $0.422. In doing so, a buying frenzy targeting the broken support zone at $0.44 could occur. The Ripple price would rise by 10% if the bulls were to succeed.