Ethereum Classic price is on a tier this month with roughly 40% gains in the books.
ETC still has much catching up to do to recover all the incurred losses of 2022 alone.
A macro picture on the monthly chart shows that the actual recovery has not even begun.
Ethereum Classic (ETC) saw the headwinds that triggered the massive sell-off of 2022 fade a bit to the background in the first weeks of 2023. That resulted in bulls returning to life after a hibernation of almost five consecutive straight months in which bears ruled the price action. Although markets have rallied, from the looks of a broader timeframe that same recovery is just a drop on a hot plate. W several risk elements from 2022 flaring up again in the past 48 hours, this could be as far as the rally will go until at least June. A subdued and slow grind lower toward $13.53 before a recovery breaks out is the mostly likely option.
Ethereum Classic price set to go nowhere before the summer
Ethereum Classic price declined nearly 70% in the last half of 2022 as markets saw inflation peak and very hawkish comments from all central banks across the globe. Meanwhile, a few things have changed. Inflation numbers are declining, Ukraine tensions are slowing down a bit, and some central banks are signaling they are done hiking interest rates. But wait, that does not mean that suddenly we are out of the woods and back in the same conditions as we were in 2021 in the recovery phase after covid.
ETC price has made a recovery on the back of the elements mentioned above, but none of those issues has been resolved in the meantime and are even flaring up this week: Ukraine is set to receive plenty strategic heavy tanks from the US and Germany, which will ramp up tensions, inflation is set to pause its decline or even jump back up as a shipping shortage is halting the supply of electronics and new cars.Amidst that, several major economies are at risk of entering a recession. This economic and geopolitical backdrop thus grants a bit of recovery, but expect that red descending trend line to be respected deep into 2023, with $13.53 as a base and a slow grind higher in the price action toward the summer.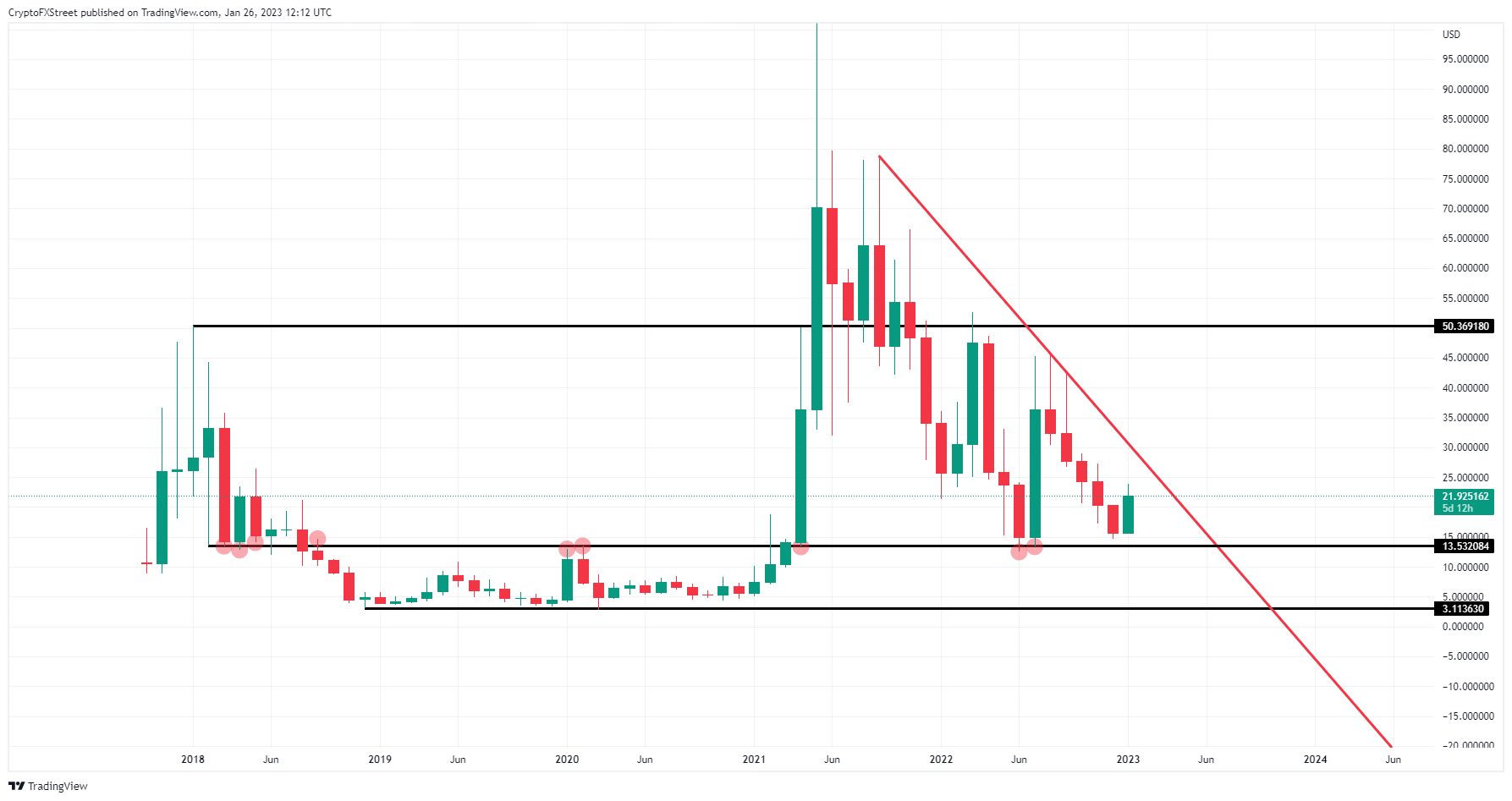 ETC/USD monthly chart
A string of catalysts as peace talks between Ukraine and Russia, inflation tanking toward 2% or several economies signalling that a Goldilocks scenario is underway could trigger the earlier foreseen breakout. Of course, that breakout is above the red descending trend line. To be realistic, it seems quite unlikely that a full paring back of the losses from 2022 could happen, so instead look for a realistic level near $50.36 as a clear barrier due to the previous month's reactions.