After receiving several complaints about AktienAG broker, we've decided to check their business. As it turns out, this firm is an unregulated scheme targeting German-speaking clients. You should stay away despite solid website design and somewhat appealing trading conditions. This review will give you all the reasons for that.
On top of that, we seriously recommend you not to invest in the fake brokers 44Trades, EarningCrypt, and Novobrokers. Do not trade with these unlicensed brokers if you want to save your money!
| | |
| --- | --- |
| Broker status: | Unregulated |
| Regulated by: | Unlicensed brokerage |
| Scammers Websites: | aktien.ag |
| Blacklisted as a Scam by: | BaFin |
| Owned by: | AktienAG Holding Ltd |
| Headquarters Country: | Cyprus (allegedly) |
| Foundation year: | 2022 |
| Supported Platforms: | WebTrader |
| Minimum Deposit: | $250 |
| Cryptocurrencies: | Available |
| Types of Assets: | Forex, commodities, indices, shares, cryptocurrencies |
| Maximum Leverage: | 1:500 |
| Free Demo Account: | Yes |
| Accepts US clients: | No |

How Safe Is the AktienAG Platform?
AktienAG was allegedly owned by Aktien C Ltd and based in the UK. Furthermore, the company was reportedly regulated by the Financial Authority. Once the German BaFin issued an official warning, the firm changed its owner to AktienAG Holding Ltd, allegedly based in Cyprus. In addition, we have a brand Swiss Markets under the same umbrella. And once again, we have the Financial Authority listed as their regulator.
Since the Financial Authority is not the real regulatory body and the firm ought to have a CySEC license, we were already alerted about the AktienAG scam. Upon checking CySEC, FCA, FINMA, and several other regulatory registers, we confirmed that this trading firm is nothing but a fraud.
Reasons Not to Trust an Unlicensed Broker
If you're wondering why you should avoid unregulated brokers, the answer is simple. You have no money-back guarantee, the firm can vanish at any moment, and you can lose everything you have without the possibility to file a complaint to any official financial institution.
So, Is AktienAG a Good Broker or a Scam?
AktienAG is not a regulated online Forex and CFD trading provider. The German state criminal police and the official regulator, BaFin, started an official investigation of Aktien C Ltd and their brands AktienAG and Swiss Markets.
Warning Issued Against AktienAG by BaFin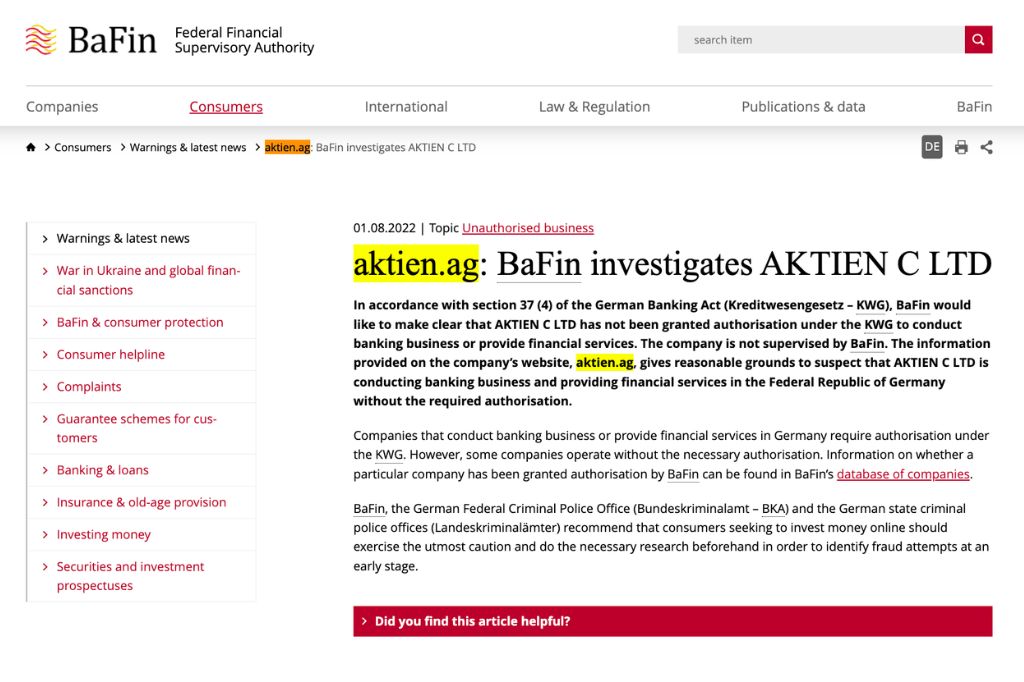 German regulator BaFin issued an official warning against AktienAG. According to it, this trading firm is conducting a scam by providing financial services to German residents. German crime police and the financial authorities warned citizens to check the firm before giving their money away.
What Do Traders Think Of AktienAG?
Since we already proved that AktienAG is nothing but a bogus brokerage, no wonder that reviews are negative. Traders mainly complain that they cannot get their funds back since their withdrawal requests are denied. In addition, they cannot contact anyone from the company or access their money after submitting several requests and being rejected several times.
Available Online Trading Platform & Tools
AktienAG offers a simple WebTrader. Customers can check available trading assets, choose among 3 chart types, and apply several indicators. There are no advanced tools such as Stop Loss or Take Profit and no features for in-depth market analysis. This software doesn't support automated or social trading, leaving customers with only traditional trading.
If you're looking for the best brokerage and the most advanced platform, we advise companies with a Tier1 license providing MT4 or MT5.
AktienAG Accounts Overview
If you're about to start trading, AktienAG will let you open one of the four account types:
Entry – $250
Standard – $2,500
Premium – $10,000
VIP – $50,000
The first two account types are pretty much the same. However, Premium customers are entitled to lower spreads and leverage, bonuses up to 100%, and monthly sessions with senior market analysts.
Also remember the names of the AllCryptoMarkets, HotTrades and The Investment Center trading scams and avoid them at all costs! Moreover, always check the background of online trading companies before investing!
AktienAG Broker – Countries Of Service
As mentioned, this trading firm mainly targets German-speaking areas, with the majority of defrauded customers being in:
You should be aware of who AktienAG is wherever you are and stay away from this cyber-fraud.
AktienAG Range of Trading Markets
This trading firm enables access to all major markets, including here:
Forex market – EUR/USD, GBP/AUD, CAD/JPY
Commodities – gold, corn, coffee beans
Indices – Dow Jones, S&P500, DAX30
Shares – Amazon, Google, Apple
Cryptocurrencies – ETH, XRP, DOGE
Despite the vast number of trading instruments, your funds are at risk due to a lack of regulation.
What Trading Terms Trader AktienAG?
Some may say that AktienAG trading conditions are appealing. However, you should never forget that unregulated brokers don't follow the rules and can set any terms they want. Most of the time, good-looking conditions are just a lure for innocent clients who will then be ripped off and left without their funds.
Minimum Investment Amount
The minimum deposit with AktienAG is $250. This is pretty much the industry standard. But some regulated firms have Micro accounts starting with $5 or $10. Therefore, there's no reason to risk such a high amount with an unregulated broker like AktienAG.
About Leverage and Spread
The spread starts at 1.5 pips for the Entry account and 0.8 pips for the Premium account. While this may look attractive, note that unlicensed brokers are not interested in small profits from commissions and swaps but your entire deposit.
Regarding leverage, the firm offers range from 1:200 to 1:500. While one may think this is an excellent offer enabling you to make 200-500 times more money, it also puts you at 200-500 times higher risk.
AktienAG Deposit, Withdrawal Methods, and Fees
The company accepts two payment methods:
Debit/credit cards
Bitcoin and Ethereum
This is a typical tool for fraudulent firms, using crypto as a preferred payment. If you transfer your funds via crypto wallet, you won't be able to file a dispute for a chargeback, and tracking these transactions is virtually impossible. At the same time, credit card transactions are processed through a third-party processor called PayPound. Thus, we advise against investing with the broker whatsoever.
Bonuses and Bonus Terms
Customers can get 30-100% of the deposit bonus. However, AktienAG doesn't have Terms and Conditions or a Bonus Policy that would specify any terms. Usually, scam brokers use bonuses as a tool to prevent clients from withdrawals, asking them to reach a certain trading volume. Since we don't have anything written, broker employees can demand this volume to be anything they want and change the demand whenever they feel like it.
Scammed by AktienAG Broker? – Let Us Hear Your Story
If you or someone close to you was a victim of AktienAG, let us know. Our chargeback specialists may be able to assist with the refund process.
But What Is A Chargeback?
This is a way of recovering your funds from the merchant if you made a deposit using your credit card. If you deposited via Bitcoin, our experts might help you trace the wallet where your funds are held. Contact us immediately to book a free consultation, and let's start.