A glance at the GMT Trading website will tell you "enjoy a trading experience like no other." While this slogan sounds appealing and may be tempting to go for the offer, you should think twice. If you try to find the owner's name, legal jurisdiction, or license number, you won't be able to. And this indicates that the company cannot be trusted. Read our detailed GMT Trading review and learn everything you need to know before investing money.
What is more, we strongly advise you not to invest in Exo Trade Capital, Buffets Finance and Investirex fraudulent brokers.
| | |
| --- | --- |
| Broker status: | Unregulated Broker |
| Regulated by: | Unlicensed Scam Brokerage |
| Scammers Websites: | gmttrading.io |
| Blacklisted as a Scam by: | BaFin, FINMA |
| Owned by: | N/A |
| Headquarters Country: | N/A |
| Foundation year: | 2022 |
| Supported Platforms: | WebTrader |
| Minimum Deposit: | $250 |
| Cryptocurrencies: | Available – BTC, ETH, XRP |
| Types of Assets: | Forex, cryptocurrencies |
| Maximum Leverage: | 1:400 |
| Free Demo Account: | No |
| Accepts US clients: | Yes |

Can I Trade Safely On The GMT Trading Platform?
The GMT Trading broker presents itself as global trading services provider yet fails to give any license number or the owner's name. Instead, the Terms and Conditions state, "These Terms and Conditions and the website are governed by the laws under which GMT Trading is incorporated and will be interpreted in accordance with its courts."
Since we don't know which laws are those or who's in charge of the website, it's clear that you're being lured into the scheme. If something goes wrong, you have nowhere to file a complaint.
Reasons Not to Trust an Unlicensed Broker
Unlicensed brokers carry lots of risks. Instead of being entitled to a compensation fund provided by the authorities, you have nowhere to file a complaint in case of an issue. Scam brokers don't need to limit their leverage or provide negative balance protection, meaning that your funds are at risk with every action you take, from depositing to trading. All of this should be sufficient for you to avoid unlicensed brokers and find a legitimate trading platform regulated by Tier1 authorities, such as FCA, ASIC, or BaFin.
Is GMT Trading a Legitimate Broker Or A Scam?
GMT Trading is an anonymous financial services provider. The company has no license and operates illegally. The broker has been blacklisted in Switzerland and Germany.
Warnings From Financial Regulators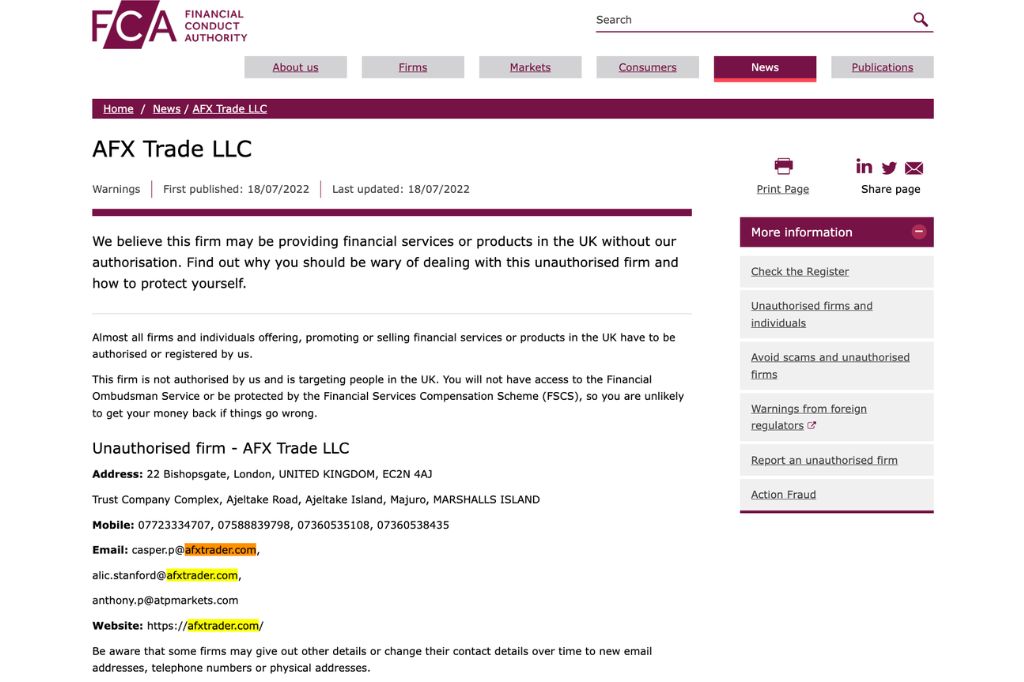 Besides the fact the company is unlicensed, GMT Trading has also been blacklisted in Germany and Switzerland.
The Swiss authority FINMA issued a warning stating that GMT Trading is an unregistered domicile and has no authorization to provide any kind of financial services.
Not long after, the German BaFin stated the same. According to the warning, GMT Trading presented itself as a Swiss-based trading firm, but the FINMA warning denied this. Thus, BaFin and the German crime police started an official investigation.
What Do Traders Think Of GMT Trading?
GMT Trading has had numerous negative reviews. In fact, if you check Trustpilot, you'll see that some positive reviews have been removed since they were fake. Here's what's left.
"Please Do Not trust GMTtrading.io Once you send your money it will be gone . This is a fake trading company . All they do is steal money and ruin lives" – Trustpilot Customer
GMT Trading Offers MetaTrader 4? – Available Trade Software
Like many scammers, GMT Trading is using MetaTrader to promote its services. While you can find MT4 advertised all over the website, in reality, you'll be given access to a basic WebTrader. This software has several charts and indicators, the trading history and margin level. If you're looking for MT4 advanced features, such as social trading and EAs, you won't find them here.
Can I Download The Platform for iOS and Android?
Since there's no MetaTrader, there's no mobile app either. Android and iOS users will have to use their web browsers to check accounts and place trades. This is rather inconvenient and not what you're promised when depositing the funds.
GMT Trading Accounts Overview
You can choose one of the following GMT Trading account types:
Basic – $250, leverage 1:200, 1 week MAM account
Standard – $10,000, leverage 1:200, 1 month MAM account
Silver – $50,000, leverage 1:200, 3 months MAM account
Gold – $100,000, leverage 1:200, CRO and BNB staking
VIP – $250,000, leverage 1:300, VIP advisor, 1 year MAM account
Pro – $1,000,000, leverage 1:400, USDT staking, tight spreads
Also, remember the names of the Bontobel, Aurora Coins and CryptoHold trading scams and avoid them at all costs! Moreover, always check the background of online trading companies before investing!
Can I Try to Trade With a Demo Account?
Demo account is not enabled. To test the system, you'll have to invest a minimum deposit of $250 and get basic perks. Of course, you'll be constantly pressured to upgrade your account and invest more. This is a typical scam pattern – extorting money and disappearing.
GMT Trading Broker – Countries Of Service
According to our research, the GMT Trading scam is mainly active in:
UK
US
Canada
Australia
Germany
Switzerland
Italy
Netherlands
GMT Trading Fraud Pattern
Despite the regulatory ban, GMT Trading offers bonuses and other incentives. However, these don't come for free. Once you accept any bonus, you'll have to trade a minimum of the deposit plus the bonus amount multiplied by 25 before being eligible for a withdrawal.
In addition, you'll be asked to pay non-existent fees of at least 20% before the firm approves your withdrawal request. Of course, you won't see a penny back even if you pay.
GMT Trading Range of Trading Markets
The company offers to trade in:
Forex market – EUR/USD, AUD/CAD, GBP/CHF
Cryptocurrencies – BNB, SHIBA, DODGE
The offer is limited and you cannot access commodities or shares. Thus, the reason more to avoid this fraudulent website and find a legitimate financial brokerage.
What Trading Terms Does GMT Trading Offer?
Unregulated brokers offer their own trading terms, not following any legal prerogatives. Instead of limiting the leverage to 1:30, as requested by the UK and EU regulators, this firm offers a significantly higher span. Of course, it impacts trading risks as you can make more, but you can also lose more money in a short time. In addition, spreads and fees are undisclosed.
What Is the Broker's Leverage and Spreads?
The leverage offered by GMT Trading varies from 1:200 to 1:400, depending on the account type. This is significantly above the limit set by any regulator in the world. Thus, your funds are at risk. As per spread, you're promised a super tight spread for the Pro account worth $1 million, but nothing has been specified.
GMT Trading Funding and Withdrawal Methods
The minimum deposit is $250, while the minimum withdrawal amount has not been disclosed. The Terms and Conditions suggest that customers can deposit and withdraw funds using credit cards and wire transfers. Yet, once we opened an account, we were offered to deposit using only Bitcoin. Due to high risks, you should avoid crypto deposits by all means.
Why Is Paying In Cryptocurrency Unsafe?
Cryptocurrencies are not subject to chargeback and cannot be refunded. Therefore, scammers can use them to steal your funds and vanish. It takes a real expert to track and trace the stolen money once transferred from your wallet.
Instead of involving yourself with illicit firms, choose a legitimate company offering safe payment methods, such as credit cards or PayPal.
Scammed by GMT Trading Broker? – Let Us Hear Your Story
GMT Trading is an unlicensed financial services provider that has defrauded many. If you find yourself unable to get a withdrawal, contact us for help. Our recovery specialists may assist you in retrieving what's rightfully yours.
Contact us to book a free consultation, and let's start the refund process before it's too late!