Think of it this way – Invest Think's name is pretty self-explanatory and explicitly tells you what to do, except that it should be the other way around. You should first think and then invest.
That's why we came up with this Invest Think Review. Here, you will read all about the shady background of this offshore con artist and how it implements its scheme in a cunning fashion.
​​What's more, we strongly recommend that you avoid the fraudulent brokers Apollo Cash, Merricks Invest, and PrevailFX.
| | |
| --- | --- |
| Broker status: | Unregulated Broker |
| Regulated by: | Unlicensed Scam Brokerage |
| Scammers Websites: | investtg.com |
| Blacklisted as a Scam by: | FSMA, CONSOB, CMVM, OSC |
| Owned by: | Marketguild LTD |
| Headquarters Country: | Marshall Islands |
| Foundation year: | 2022 |
| Supported Platforms: | WebTrader |
| Minimum Deposit: | 5,000 USD |
| Cryptocurrencies: | No |
| Types of Assets: | Forex, Indices, Spot Metals, Spot Energies, Futures |
| Maximum Leverage: | 1:150 |
| Free Demo Account: | Unavailable |
| Accepts US clients: | Yes |

Invest Think – Regulated Forex Broker or Scam?
First of all, let's check out who runs this FX joint. At the bottom of the home page, we read the name Marketguild Ltd, registered in the Marshall Islands. It seems we're dealing with a shady offshore broker here. The Marshall Islands is not known for its strict regulations but rather for the lack thereof, as well as a permissive tax system.
Therefore, with no financial market regulations in place, our fraudulent provider is left without a license. In other words, any penny you invest in this phony is surely going to be lost.
Invest Think is a suspicious offshore provider based in the Marshall Islands that targets unsuspecting victims from the UK, US and Canada.
Why Is Trading With a Licensed Broker Preferable?
The most important thing when choosing a broker is to check its licensed status. Make sure that your provider obeys the financial market laws enforced by top-tier regulators such as the FCA, BaFin, ASIC, etc. There's no room for anonymous offshore tricksters here.
Fraud Warnings From Financial Regulators
We checked the websites of the aforementioned regulators and found nothing on Invest Think. However, what we did find will give you chills. This unscrupulous broker has been blacklisted by not one but four financial market authorities like Financial Services and Markets Authority (FSMA), The Portuguese Securities Market Commission (CMVM) and The Ontario Securities Commission. Check it out: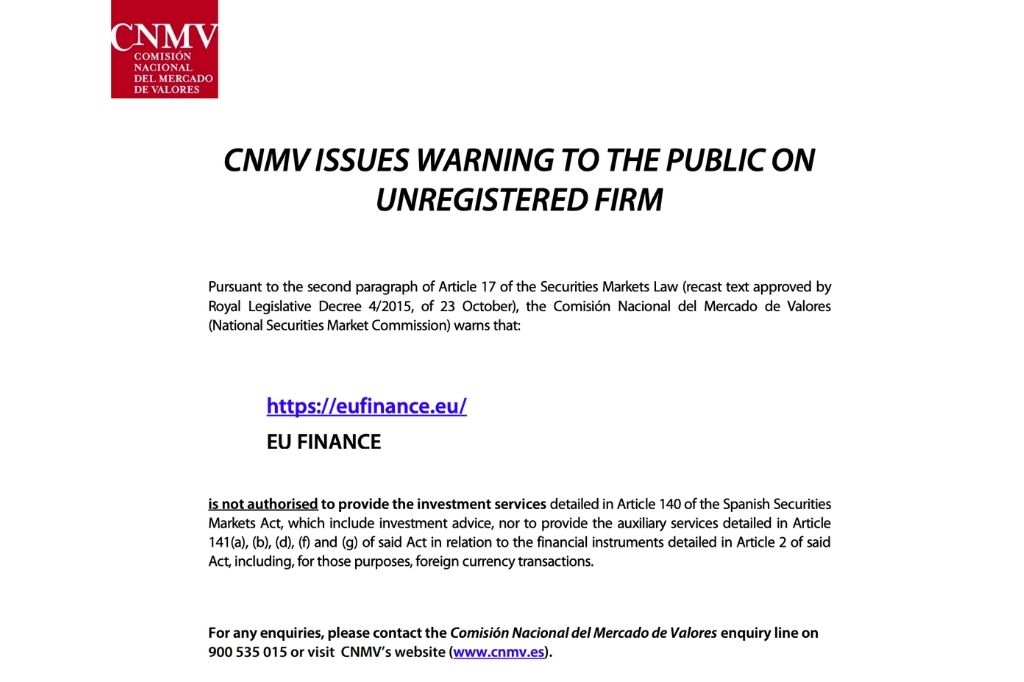 What Platforms Does Invest Think Offer?
Judging by the info put forth on Invest Think's website, the scammer offers clients WebTrader as well as a mobile and desktop platform. When it comes to the former, it's the usual choice of most financial swindlers since it's the easiest to get a hold of. Also, such a platform is prone to manipulation.
The fraudster allows clients to deposit funds but doesn't give them the option to trade and make money. Instead, it only creates an illusion of it.
Platform For Desktop
Invest Think claims that it has an "award-winning and fast-growing, multi-asset platform" available for desktop. And? Does that platform have a name? Which one is it, Meta Trader 4 or 5? The broker really left us in the dark with this one.
It cannot possibly be WebTrader because that platform is nowhere near advanced. Without a license, who knows what you're getting.
Platform For Mobile
The same applies to the mobile version. Invest Think ensured clients had access to the platform on multiple devices for convenience. This way, the fraudster increased its chances of scoring in its scheme.
Affiliate Program – Rebate Packages 
"The more you trade with us, the more commission you'll earn as our partner," Invest Think says on its website. "Most lucrative rebate packages around." Seems tempting, does it not? It's certainly supposed to, especially when rebates are mentioned. However, we highly doubt that you'll be allowed to withdraw your gains, let alone get rebates.
Invest Think – Countries Of Service
After a thorough investigation, we found out that Invest Think's main designated targets are residents of the UK, US and Canada, i. e. speakers of English but of French too since the website is available in the latter language.
Fortunately, the Ontario Securities Commission (OSC) was quick to react and put this fraudster on its blacklist.
Which Assets Can The Investor Trade?
Here's what Invest Think offers:
Forex
Indices
Energies
Metals
Futures
That's it. The broker did not even provide a separate tab for these assets. They're just stuffed in there like they don't matter, at least for the provider. The Islamic acc mentions trading FX pairs, gold, silver and oil.
Furthermore, we strongly advise you not to invest in the bogus brokers EU Finance, AllinvestFX, and Cryptocycle. If you want to save money, don't trade with these unlicensed brokers!
What Do We Know About Invest Think Account Types?
There are three main acc types available:
Silver – $5,000, leverage 1:50, manager, bonus up to 10%;
Gold – $10,000, 1:100, manager, bonus up to 30%;
Platinum – $50,000, 1:150, manager, bonus up to 50%.
Whoa, whoa. Five freaking thousand dollars just to start?! No demo account?! Preposterous! Invest Think is way out of line here.
Islamic Account
In order to appear more legit, the unscrupulous broker included an Islamic account. This is disgusting because Invest Think is using pathos here to attract Muslims. The broker is not interested in their faith and customs but only in their money. Allegedly, traders will have access to FX pairs, gold, silver and oil.
Details About Leverage, Spreads and Fees
Leverage starts within the legal US and Canadian limits of 1:50 for retail clients but then jumps all the way up to 1:150. That's pretty high and can result in heavy losses, hence why the limit was prescribed.
Also, specific spreads were not disclosed. How is one supposed to trade without being familiar with the fundamental conditions?
Does Invest Think Give Bonuses?
Invest Think does give away bonuses and that's the problem. Bonuses are banned by regulators. Read aloud these clauses. Then, read between the lines and you'll see how the fraudster can use this against you to prevent you from withdrawing.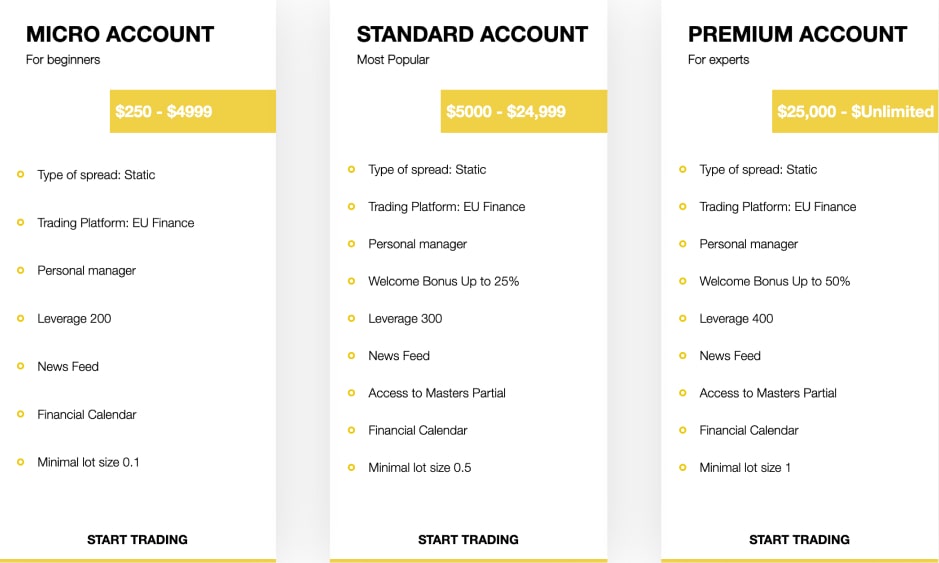 High Minimum Deposit and Withdrawal Terms
The level of shadiness here is disturbing. We had a hard time locating the info on the payment methods because nothing is transparent with this broker. As mentioned, Invest Think demands $5,000 as the initial deposit.
Payment methods include credit/debit cards and wire transfers. Also, the fraudster is keen on getting copies of your personal documents before anything else to ensure its scam will work.
Scammed by Invest Think Broker? – Let Us Hear Your Story
We know that the alluring website and offer were hard to pass. There's no shame in being scammed. If you've fallen victim to this terrible scam, know that there are two possible ways of getting your money back. You have a chargeback and a recall.
A Chargeback And A Recall?
A chargeback is used to reverse credit/debit card transactions. The issuing bank can perform it if requested within 540 days. However, it won't work if you've given copies of your personal documents to the scammer, so, be careful.
A recall is used for wire transfers. This method also has a condition. The transaction must not have gone through. Thus, act with haste and rush to the bank!