OptiumGroup is an online trading platform claiming to be based in the U.K. and regulated in the U.S. This discrepancy made us suspicious and invoked detailed research. Our findings will convince you to stay away from this bogus website.
Read this detailed OptiumGroup review and see everything for yourself.
To add to the foregoing, we seriously recommend you avoid fraudulent brokers such as TheExchangeBank, Keler Group, and TraderActive.
| | |
| --- | --- |
| Broker status: | Unregulated Broker |
| Regulated by: | Unlicensed Scam Brokerage |
| Scammers Websites: | optiumgroup.com |
| Blacklisted as a Scam by: | N/A |
| Owned by: | N/A |
| Headquarters Country: | UK (allegedly) |
| Foundation year: | 2022 |
| Supported Platforms: | WebTrader |
| Minimum Deposit: | 250 EUR |
| Cryptocurrencies: | Available – BTC, SHIBA, XRP |
| Types of Assets: | Forex, commodities, indices, shares, cryptocurrencies |
| Maximum Leverage: | 1:300 |
| Free Demo Account: | No |
| Accepts US clients: | Yes |

Is OptiumGroup a Trustworthy And Licensed Broker?
The first thing that bothered us was a lack of basic information. The firm is said to be based in the U.K. and has presented us with fake NFA regulations, but the owner's name is nowhere displayed.
Furthermore, the NFA and FCA databases inspection showed that OptiumGroup broker was never registered with any. In addition, the Terms and Conditions show that the firm operates under Estonian law.
All in all, OptiumGroup seems to be offshore fraudsters trying to convince traders otherwise.
Reasons Not to Trust an Unlicensed Broker
Legit firms have compensation funds and an obligation to keep clients' money segregated from the company's. This ensures that the broker won't reinvest your funds or harm your budget in any way.
With phony firms such as OptiumGroup, you have only fake promises. In reality, the brokerage can vanish anytime, and your money can be gone for good.
So, is OptiumGroup a Good Broker or a Scam?
OptiumGroup is not a legit brokerage. The firm is said to be based in the UK and regulated by the US authority body, NFA. According to FCA and NFA registers, none of these allegations are true.
What Do Traders Think About OptiumGroup?
Traders don't have a positive experience with OptiumGroup. According to reviews, this firm is welcoming and helpful only while you are depositing your money. Once you request a withdrawal, they'll try anything in their power to dissuade you. If nothing works, account managers will simply block your trading accounts.
If you recognize yourself in this story, filing a complaint immediately is essential.
OptiumGroup Offers a WebTrader For Trading?

OptiumGroup offers only one trading platform – WebTrader. However, we weren't able to access it. Once we tried registering an account, we were informed that our application was under review. It shows that the firm wants to take control over who has access to the platform and to get ahold of you so that they can push for the deposit on the spot.
OptiumGroup Offers a Mobile Version Of The Platform?
It remains unclear whether this firm provides any platforms at all. Since there are no links for any apps, we can assume that the mobile version is unavailable.
Instead of wasting your time on some approvals and waiting to start trading, you can find a legit firm. Once you sign up, you'll be offered advanced software such as MT4 or MT5 and mobile apps.
OptiumGroup Accounts Overview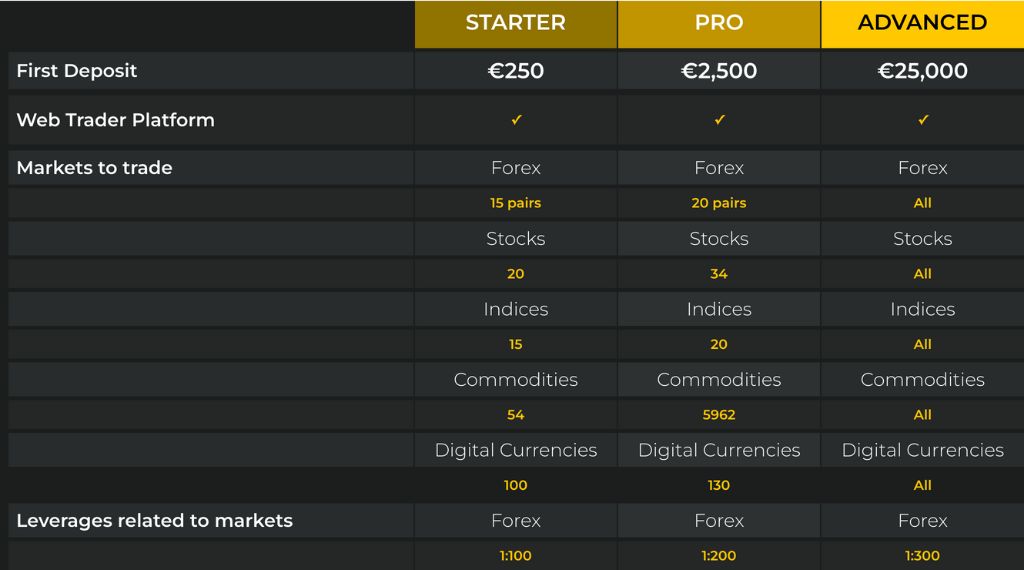 There are 3 OptiumGroup account types:
Starter – 250 EUR, leverage 1:100, limited asset access
Pro – 2,500 EUR, leverage 1:200, dedicated support channel
Advanced – 25,000 EUR, leverage 1:300, access to all assets
Each account brings more benefits and requires more money.
OptiumGroup Broker – Countries Of Service
The firm is mainly present in:
Canada
Netherlands
Germany
Italy
However, they claim to be a worldwide brand, indicating that you can be defrauded regardless of the country of residence.
Trading Bonuses Fraud
While bonuses are advertised as a helping tool to reach your financial goals earlier, it's just a trap. Once you accept any incentives, the company won't allow withdrawals before you reach a rollover of 30 times the deposit plus the bonus amount.
This was a reason for regulators to ban bonuses and for scheme firms to still offer them. You'll be dissuaded from getting your funds back.
OptiumGroup Range of Trading Markets
The broker offers to trade in the following markets:
Forex – AUD/CAD, GBP/ZAR, USD/TRY
Commodities – gold, silver, brent oil
Shares – Amazon, Google, Apple
Indices – Dow Jones, FTSE100, IBEX35
Cryptocurrencies – SHIBA, DOGE, SOL
Please remember the names of the scammers BullGeko, Amplixx, and Crypt Node and stay away from them! Also, before investing, always examine the history of internet trading organizations!
What Is Known About OptiumGroup's Trading Conditions?
Long story short, nothing. The firm did not specify any fees or spreads on the main page or legal documents. It means that planning your trading costs is impossible. Instead, you'll have to wait for broker employees to call so they can sell you a fairytale.
What Is the Broker's Leverage and Spreads?
As mentioned, the spread was not disclosed. As per leverage, it ranges from 1:100 to 1:300, depending on the account type.
U.S. regulators have a leverage limit of 1:50 for retail trading. This shows that the firm cannot hold an NFA license, which is just part of their scam story.
OptiumGroup Minimum Deposit and Unfavorable Withdrawal Terms
The brokerage requires a minimum deposit of 250 EUR. This is a solid industry standard, but too high an amount to give away to a bogus website.
Withdrawal fees are rather high, standing at 50 units for wire transfers, 25 units for card withdrawals, and an additional 10 units for ePayments. The minimum withdrawal amount for wire transfer is 250 USD or EUR and 100 units for other methods.
What Payment Method Does the Broker Accept?
According to the Withdrawal Policy, clients can use:
Debit/credit card
Wire transfer
E-wallets
It's mandatory to use the same method as for deposit.
Scammed by OptiumGroup Broker? – Let Us Hear Your Story
If you were scammed by OptiumGroup or a similar fraudulent firm, let us know. Our chargeback specialists may be able to assist you with the refund. 
Book your free consultation today, and let us evaluate your case. Act before it's too late!
But What Is A Chargeback?
This is a way for your bank to recover your money from the merchant. Depending on the circumstances, you have up to 540 days for a dispute. That's why it's of utmost importance to act fast.