Tedex is just another scam broker, according to the website this firm is owned and operated by Vermillion Consulting LLC. The company registration number is displayed and the address is registered in St. Vincent and the Grenadines. So far things look transparent, but let's look into Tedex a bit deeper.
What is more, we strongly advise you not to invest in FastEarnings247, Smart Trade CFD and ZeraTrade fraudulent brokers.
| | |
| --- | --- |
| Broker status: | Offshore Broker |
| Regulated by: | Unlicensed Scam Brokerage |
| Scammers Websites: | tedex.co |
| Blacklisted as a Scam by: | CNMV |
| Owned by: | Vermillion Consulting LLC |
| Headquarters Country: | St. Vincent and the Grenadines |
| Foundation year: | N/A |
| Supported Platforms: | Web-Based |
| Minimum Deposit: | $250 |
| Cryptocurrencies: | No |
| Types of Assets: | Forex |
| Maximum Leverage: | N/A |
| Free Demo Account: | N/A |
| Accepts US clients: | No |

Warning From The Spanish Financial Authority CNMV For Tedex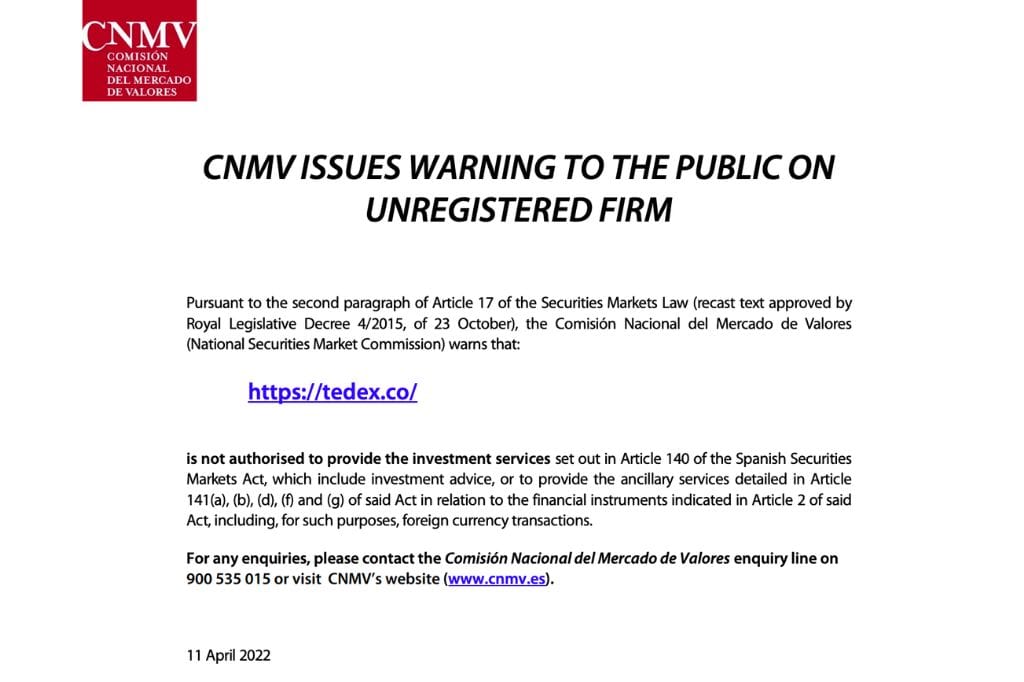 The company was publicly exposed as a scam by the CNMV. On their official website you can find the warning that says that tedex.co is not authorized to provide the investment services. The main regulatory body of Spain is strongly advising not to do any business with this company, because there is a great possibility that you will end up as a victim of fraud.
Is Tedex.co a Regulated Company?
The company is not regulated and there is no one who can overlook their activities. This broker is not listed under any financial body of authority such as FCA, ASIC, BaFin, or any other. This is a very bad situation for the client but it makes a perfect opportunity for the scam broker to take your money and disappear.
How Unsafe Is An Unlicensed Broker
In the financial market regulation of the company is a safety shield. Meaning that regulations provide a number of measures that are very protective of the client's funds. Every company that is licensed must keep their funds segregated from clients' funds, they must have negative balance protection and compensational funds, etc. That is why you shouldn't overlook this information and before you start trading always do the research!
So Is Tedex a Decent Broker or a Scam?
Tedex is an unlicensed, offshore broker that claims to be based in St. Vincent and the Grenadines. The broker was publicly exposed by the CNMV. The minimum amount for a deposit is $250 and the minimum leverage is 1:200. The company has a web based trading platform.
Traders' Experiences With Tedex
Traders' experiences aren't so good, but what is to be expected from a scam? This is just one of the many comments you can find online for Tedex.co
"SCAM SCAM SCAM!!!!!! Just RUN!!!!!!! I didn´t listened to these reviews so I lost my money! A LOT OF MONEY!! They are manipulators of the worst kind, you'll never know what hit you until all your money's gone."
– Trustpilot Customer
Still wanna try your luck with them?
What Platforms Does Tedex Offer? – Available Trade Software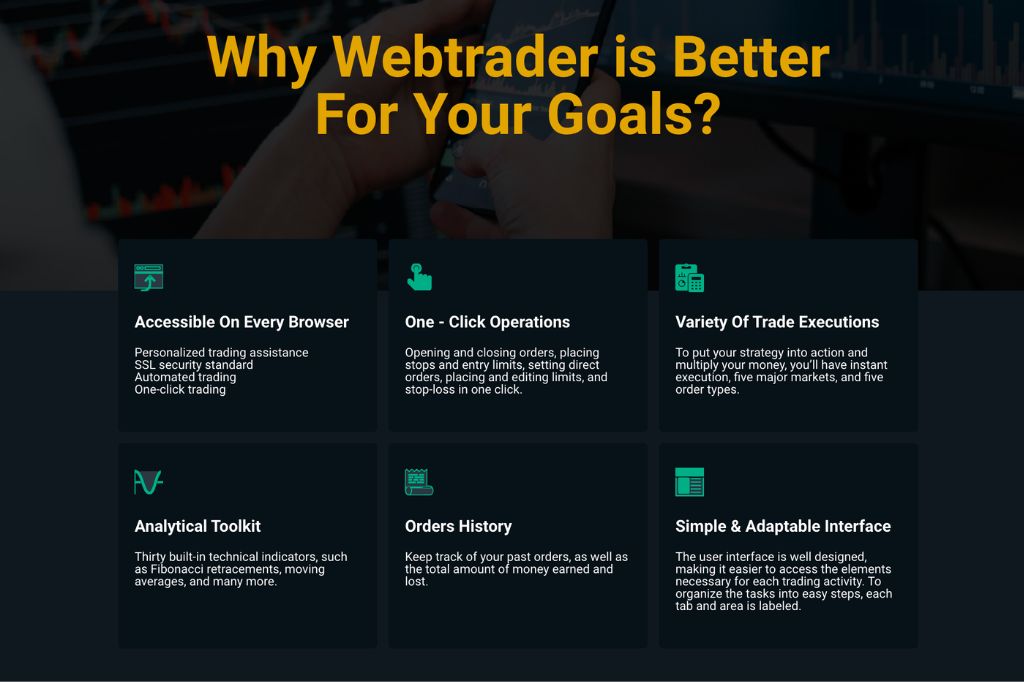 The company has a web-based trading platform and that is nowhere near the industry's golden standard, the MT5. MetaTrader5 is the most developed software for online training, it has many features that are very useful to the clients and protective of their funds. Tedex on the other side is offering a poor online tool that serves for nothing.
Tedex Leverage
One thing that draws special attention is the leverage ratio. It goes from 1:200 and it is very risky because leverage this high is putting your investments at risk. Licensed brokers are obligated to keep the leverage ratio low and for example if the company is regulated by the FCA the leverage can't go above 1:30. To put this ratio for minimum investment is insane!
Tedex Spreads
The spreads with this broker are also dangerous. Because they are too wide. The legitimate brokers are not allowing amounts over 1 pip because it is too high for the retail traders. Yet Tedex is offering 3 pips. Red flags everywhere.
Tedex Fees
The company has no fixed fees schedule and this is highly alarming. Meaning that Tedex simply abuses clients' rights whenever they want by changing fees. This is one of many reasons why you should stay away from this broker. If you don't want to end up as a scam victim, do not open an account with tedex.co
Also remember the names of the FXrally, StakingTrades and Inertia Finance trading scams and avoid them at all costs! Moreover, always check the background of online trading companies before investing!
Minimum Investment Amount
The minimum amount for the investment is $250 for a micro account. Micro accounts are a good choice for beginners and for everyone who doesn't want to risk a lot of money. Keep in mind that most legitimate brokers would require $10 for the same thing.
Bonuses – A Fraudulent Method
Beware of the scammer's trading bonus scheme because upon receiving a bonus you would need to reach a certain minimum trading volume before there is any possibility for making a withdrawal attempt. This may sound ok, but it's not, because in order to withdraw funds the client will be required to execute a minimum trading volume of the bonus amount, plus a deposit x25. This is insanely high and unreasonable, yet not for Tedex because this is a perfect opportunity for the company to lure customers in.
Scammed by Tedex Broker? – Let Us Hear Your Story
If you were scammed by Tedex contact us immediately because still, there is something that can be done! We know how this experience can be emotionally exhausting but you must act right away. The sooner you let us know the sooner we can start the process of getting your money back. Click on the button below and register now!
But What Is A Chargeback?
You can also contact us via Online Chat. It is much easier and faster. Book your free consultation now, do not let scammers go free!