Terra Classic tries to hold slim gains after the Fed rate decision on Wednesday.
LUNC sees headwinds coming from guru investor Ray Dalio of Bridgewater.
Negative comments and outlook from Dalio dampen the positive mood.
Terra Classic (LUNC) could only book roughly a 1.4% gain on the back of the Federal Reserve meeting from late Wednesday, which triggered upswings in all risk asset classes. The biggest winner of the evening was EUR/USD, as it traded over 1% higher and broke 1.10 to the upside. As bright as the future was last night, gloomy it is starting to get as the Bank of England and the European Central Bank are set to issue a less positive story. Guru investor Ray Dalio then came out very skeptical on a question about cryptocurrencies.
Terra Classic is still controlled by bearish trend line
Terra Classic could have tagged along with risk assets such as equities trading higher after Fed Chair Powell ended his press conference. Markets perceived his message and smaller rate hike as a good thing, confirming the perception of the markets that rate hikes are about finished. Although Powell pushed back against the priced-in rate cut markets are expecting toward the end of 2023, he did not firmly undermine or question that possible rate cut.
LUNC this Thursday sees a whole other sentiment popping up as the Bank of England is quite bearish on Britain's economic outlook. Cryptocurrencies are getting singled out as Ray Dalio even questioned the existence of cryptocurrencies in a few years, which adds to bearish sentiment. Expect Terra Classic price to receive a rejection against that red descending trend line and see price action back trading toward $0.000160000.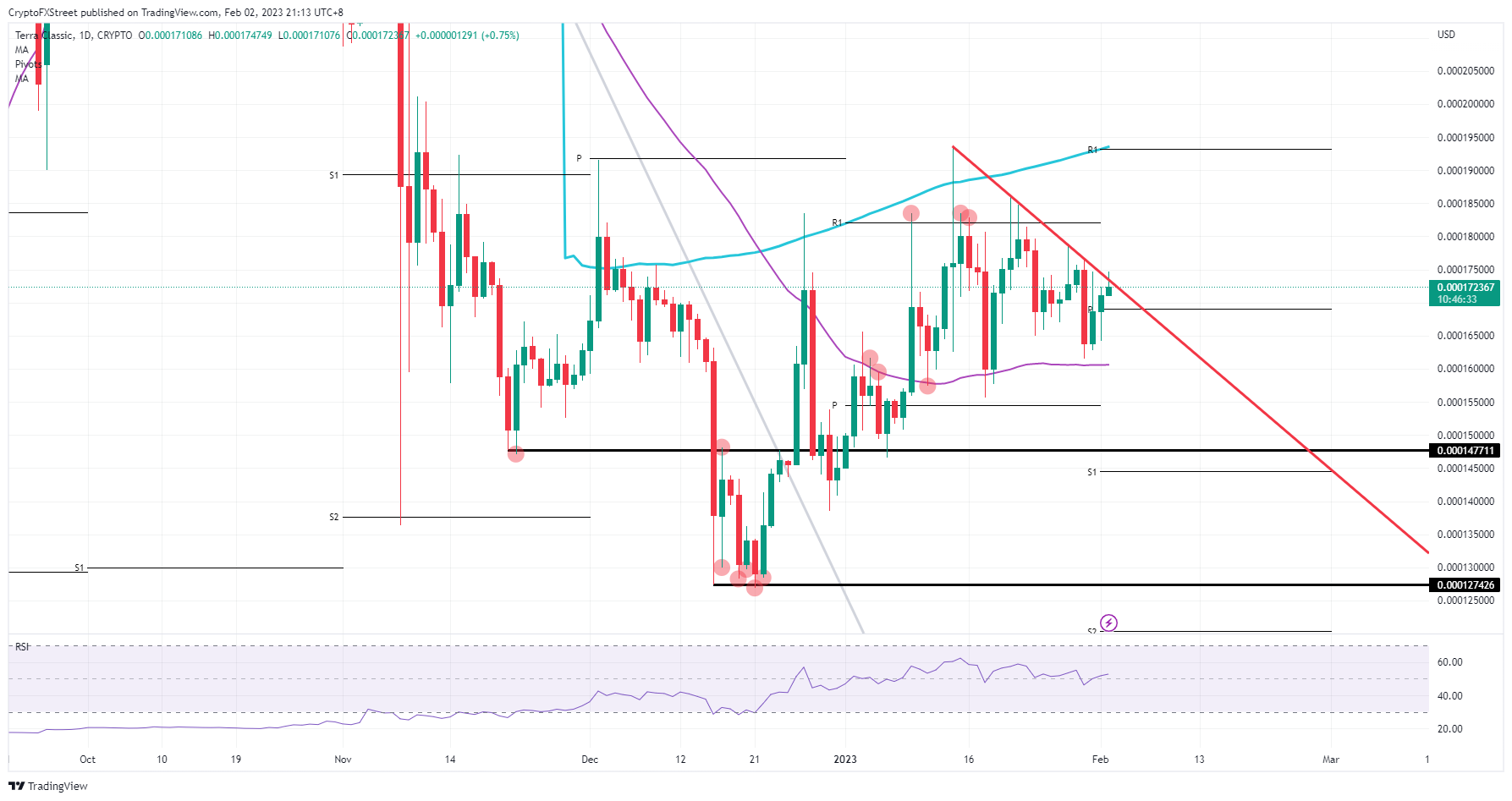 LUNC/USD daily chart
If the European Central Bank comes out with a similar message as the Fed did on Wednesday, risk assets could rally again. Bulls can pierce through that red descending trend line and break the bearish force. A full run up toward $0.000195000 is a bit too far, but the area near $0.000185000 looks interesting. In addition, possibly EUR/USD rallying higher would mean more upside in the coming weeks.