Welcome to the Caplita Review. Here, we plan to expose the anonymous scammer known as Caplita. This fraudulent broker has a cunning way of concealing its true intentions but we saw right through it. A string of irregularities helped us connect the dots and crack the case. Without further ado, let's begin.
On top of that, we seriously recommend you not to invest in the fake brokers Pioneer Markets, XBTFX, and SmartProfit FX. Do not trade with these unlicensed brokers if you want to save your money!
| | |
| --- | --- |
| Broker status: | Unregulated Broker |
| Regulated by: | Unlicensed Scam Brokerage |
| Scammers Websites: | caplita.com |
| Blacklisted as a Scam by: | AFM, FSMA |
| Owned by: | N/A |
| Headquarters Country: | N/A |
| Foundation year: | 2022 |
| Supported Platforms: | Desktop, Mobile & WebTrader |
| Minimum Deposit: | 5,000 EUR |
| Cryptocurrencies: | No |
| Types of Assets: | Forex, Indices, Commodities, Shares |
| Maximum Leverage: | 1:400 |
| Free Demo Account: | Unavailable |
| Accepts US clients: | Yes |

About The Regulation Of The Caplita Broker
Caplita was extremely vague regarding its legal background. The financial swindler claims to operate within the same brand name in the European Economic Area (EEA). Whoa, wait a second. That would imply that the entity operates out of an EU member state, adhering to strict rules and regulations. However, this is not the case.
Here's one example – the leverage Caplita offers caps at 1:400 but in the EU, the limit in all member states is 1:30. That's just one in the series of violations we plan to expose here. Caplita is anything but regulated!
Some Reasons Why It Is Better To Trade With a Licensed Broker
If Caplita were really operating in the EEA, it would have to be registered with well-known financial market authorities such as the FSMA (Belgium), BaFin (Germany) or AMF (France). The fraudulent broker is missing from all databases.
Therefore, we highly doubt there's negative balance protection, indemnification, a segregated account or minimum operating capital.
How Reliable Is Caplita Broker?
Caplita is a dangerous and fraudulent broker that claims to offer Forex & CFDs trading. The anonymous provider mainly targets unsuspecting victims from the United States, Germany, Belgium, Netherlands and Sweden.
No Possibility To Register On the Caplita Website
The red flag to end all red flags. There's no registration menu on Caplita's website. What can we say? This preposterous error has only one possible explanation – the fraudster latches on to potential victims and caresses them with outrageous lies to persuade them to invest. Only then are they offered the option to register, when the broker is sure the scam will succeed.
Warnings From Financial Regulators As a Red Flag About Scam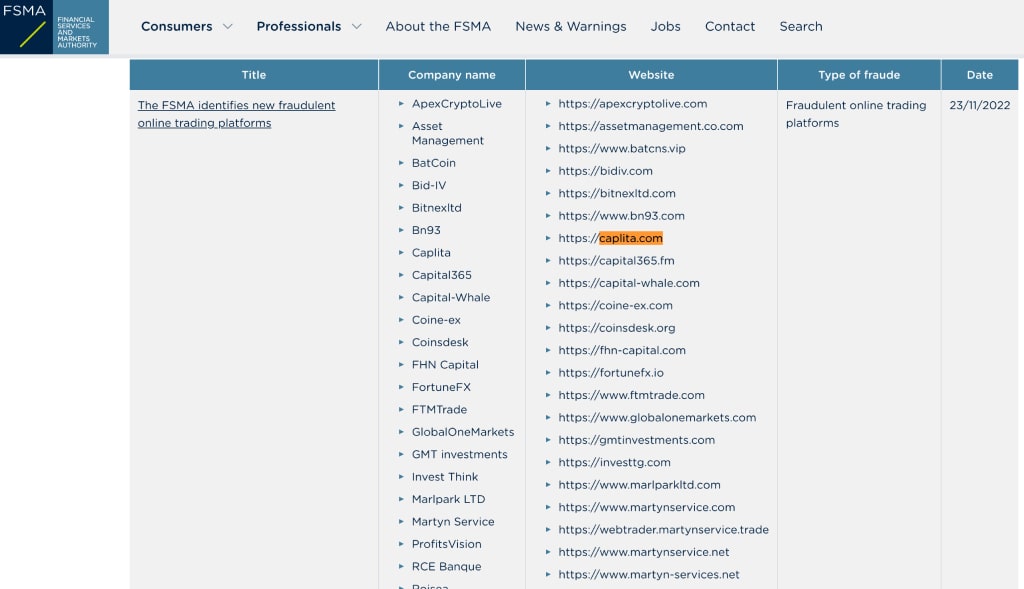 Fortunately, three financial regulators have managed to react to this malevolent scheme at large. Namely, the Belgium FSMA, the Swedish Finansinspektionen and the AMF from the Netherlands. That ought to deter traders from investing. Below, you can see the warnings.
What Trading Platform Does Caplita Provide?
According to the fraudster's website, clients are offered unnamed desktop & mobile platforms and WebTrader. However, there's no demo account available and the platform can only be accessed through a live account. As you know, there's no registration option, thus the platform and its features remain a mystery.
Mobile App for Android
Since we cannot see for ourselves, we had to read what Caplita had to lie about its mobile platform. Full functionality and intuitive interface? Right… In general, mobile platforms are convenient for quick trading on the go but fail in comparison to desktop versions.
WebTrader
We are no stranger to WebTrader. This browser-based platform is rudimental, to say the least. No advanced features, no cutting-edge tools. Just some basic charts and indicators. Needless to say, it's a far cry from being world-class.
Platform For Desktop
As for the ambiguous desktop platform, we believe that the download files may be inflicted with malware. You read that right. Nobody knows where they get this software from. That's the cruel reality of dealing with unlicensed brokers.
What Can Be Traded? – List of Assets
Here's what we found out about the trading assets Caplita offers:
Forex pairs;
Indices;
Metals;
Energies;
Shares.
Also, the fraudster allegedly offers futures trading. The broker didn't go into detail about specific instruments. Nevertheless, it matters little considering the illicit status of Caplita.
Where Does Caplita Engage In Fraud? – Countries Of Service
As mentioned, Caplita is very selective when it comes to targets. Moreover, the scam broker is interested in a few countries in particular. Below, you'll see the list. Luckily, three regulators noticed the scheme and issued a warning against it.
The United States;
Germany;
The Netherlands;
Belgium;
Sweden.
What is more, we strongly advise you not to invest in ETF Corp, ImportCapital and Shangquan fraudulent brokers.
Trader's Reviews of Caplita
At the time of this writing, Caplita had polarized reviews on TrustPilot. A total of 34, to be precise. The majority of reviews were positive, which made us raise our eyebrows. Hence, we decided to investigate further and found more reviews on PersonalReviews. These, however, all pointed out the scam. For a broker to be legit, there mustn't be any doubt at all.
What Kinds of Bonuses Does the Broker Offer?
Caplita offers bonuses. Shocking! Well, not really, we kind of expected that. Most scammers use this trick. There's a reason that bonuses were banned by top-notch regulators. These pesky 'incentives' are nothing more than a pretext that scammers use against clients to prevent them from withdrawing funds.
Check this clause out. If you read between the lines, you'll realize that this can easily be used against you since trading up to such a high amount is simply unrealistic. You won't be able to request a withdrawal.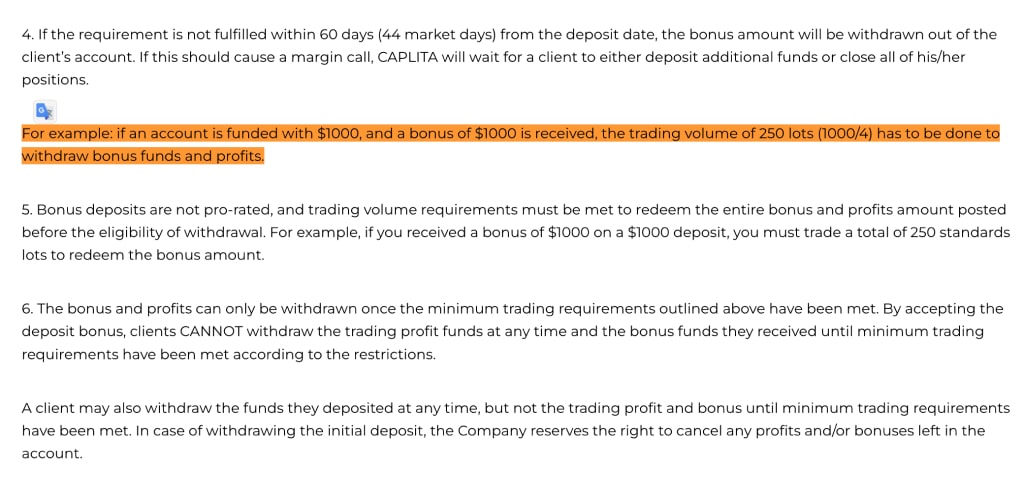 What Are the Different Caplita Account Types?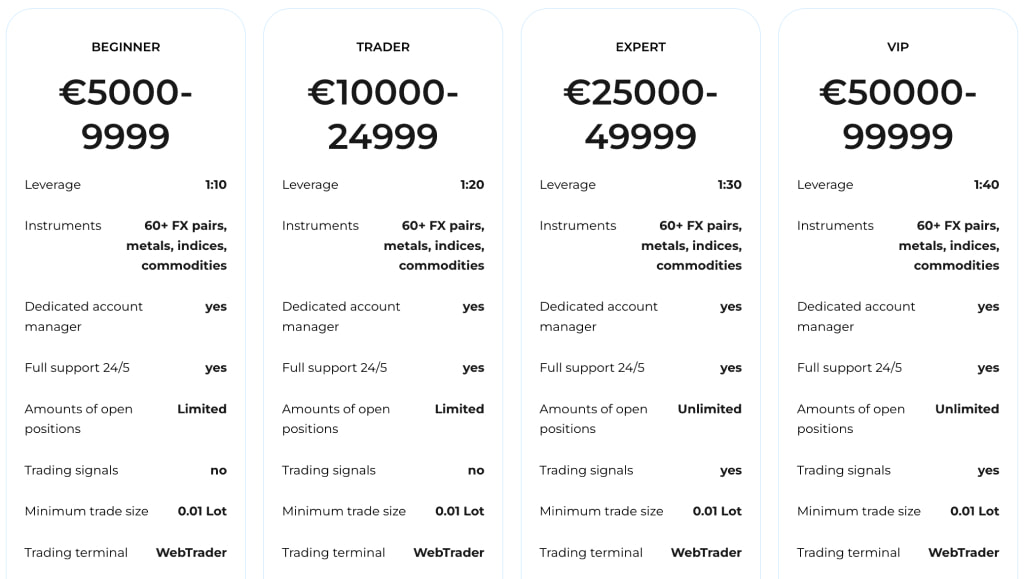 When it comes to accounts, Caplita offers five different types:
Beginner – EUR 5,000, leverage 1:10;
Trader – EUR 10,000, leverage 1:20;
Expert – EUR 25,000, leverage 1:30;
VIP – EUR 50,000, leverage 1:40;
Exclusive – EUR 100,000, leverage 1:50.
Except for the leverage and the considerable jumps in price, these accounts aren't that unique. Pretty shady. The minimum deposit of EUR 5,000 is absurd. No legitimate broker would demand that much.
Information About Demo Account
Can traders use a free demo account? No. Yet another red flag. How are they supposed to know what they're getting? Come to think of it, there isn't even a registration option, let alone a demo account.
About Leverage, Spreads and Fees
To reiterate, the leverage exceeds the European limit of 1:30. There are discrepancies in the leverage amount on the account type page and legal files. The T&C section claims that leverage caps at 1:400, well above the prescribed level. When it comes to spreads and commissions, Caplita was very secretive. Such a lack of transparency is problematic.
Minimum Deposit and Withdrawal Terms
The minimum deposit is a whopping EUR 5,000. With all the shady aspects associated with Caplita, we highly recommend you avoid investing. The fraudulent broker claims there are no withdrawal fees. Yet, we believe that there are no withdrawals at all! And of course,
Payment Methods Available
Available payment methods include credit cards and wire transfers. The classic. Not very sophisticated if you ask us. Credible brokers will always offer more options such as e-wallets and cryptocurrencies. The good thing here, though, is that these traditional methods can be reversed.
Scammed by Caplita Broker? – Allow Us to Hear Your Story
Being scammed by Caplita is no fun. But, there's no time to sit around or be angry. Regain your composure and then proceed to your bank. Once you're there, be sure to ask for either a chargeback or a recall, depending on the method you used to deposit funds.
How Does Chargeback Work?
A chargeback is the reversal of credit/debit card transactions.
It can be requested at the issuing bank within 540 days.
For wire transfers, you'll need to request a recall.
For the recall to work, the transaction must not be complete.
If the broker stole your money, you can contact us for help!