Welcome to the Conalp Review, dear trader. After reading this text, it will be impossible for you to trust Conalp with your funds because you'll be equipped with the necessary knowledge regarding this vile scam. Through careful analysis, we plan to expose this fake US broker and shut down its operation. There's no time to waste, so let's get straight into it.
Also, remember the names of the PrimeOakmont, APM Capital and Decode Global trading scams and avoid them at all costs! Moreover, always check the background of online trading companies before investing!
| | |
| --- | --- |
| Broker status: | Unregulated Broker |
| Regulated by: | Unlicensed Scam Brokerage |
| Scammers Websites: | conalp.com |
| Blacklisted as a Scam by: | N/A |
| Owned by: | Conalp Capital Corporation |
| Headquarters Country: | USA |
| Foundation year: | 2011 |
| Supported Platforms: | WebTrader |
| Minimum Deposit: | 1 USD |
| Cryptocurrencies: | Yes – Bitcoin & Ethereum |
| Types of Assets: | Crypto, Stocks, Commodities |
| Maximum Leverage: | 1:10 |
| Free Demo Account: | Available |
| Accepts US clients: | Yes |

Is Trading With a Conalp Broker a Risk?
Proving that Conalp isn't actually a US-based broker is a piece of cake. Basically, every broker that operates in the States has to be registered with two key authorities. Namely, the National Futures Association (NFA) and the Commodity Futures Trading Commission (CFTC). As you may have already guessed, Conalp and its fake company are nowhere to be found.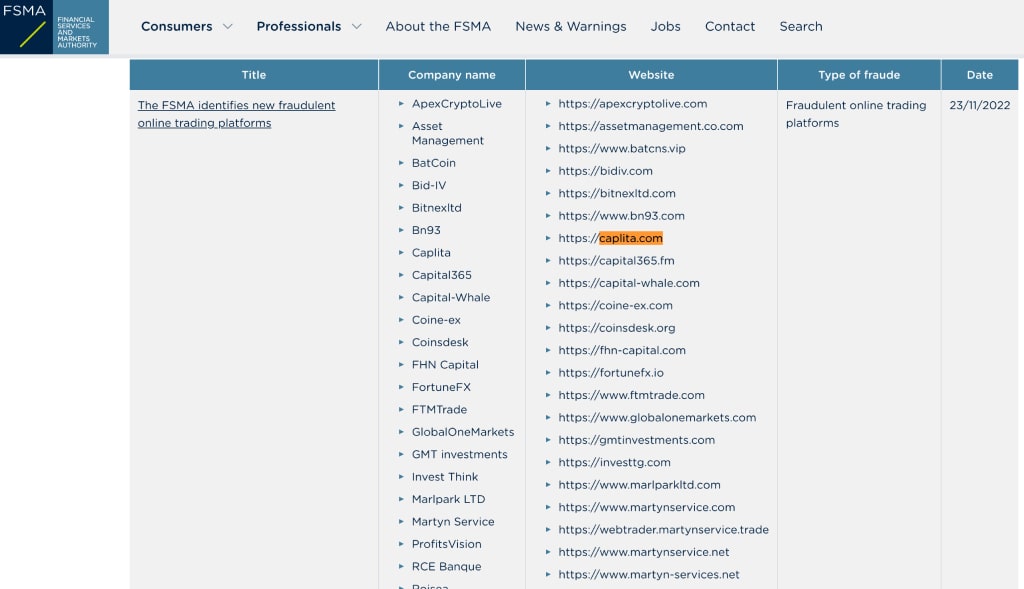 Conalp is a phony broker engaged in fraudulent activities that allegedly offers crypto, stocks and commodities (CFDs) trading. The con artist claims to be licensed by a US authority but that is a complete lie.
Arguments For Trading With a Licensed Broker
For providers to obtain a license in the US, they have to show a minimum operating capital of $20,000,000 as well as to provide clients with a segregated bank account. With all the suspicion surrounding Conalp, do you really think the fraudster meets these demands?
Furthermore, Conalp claims to operate in multiple European states, the UK and Germany included, but we failed to find any traces of the illicit broker in the databases of the respective financial market authorities – the FCA and BaFin. In our eyes, that's enough to send Conalp back to the fraudulent depths where it came from.
Conalp Also Provides What Platforms?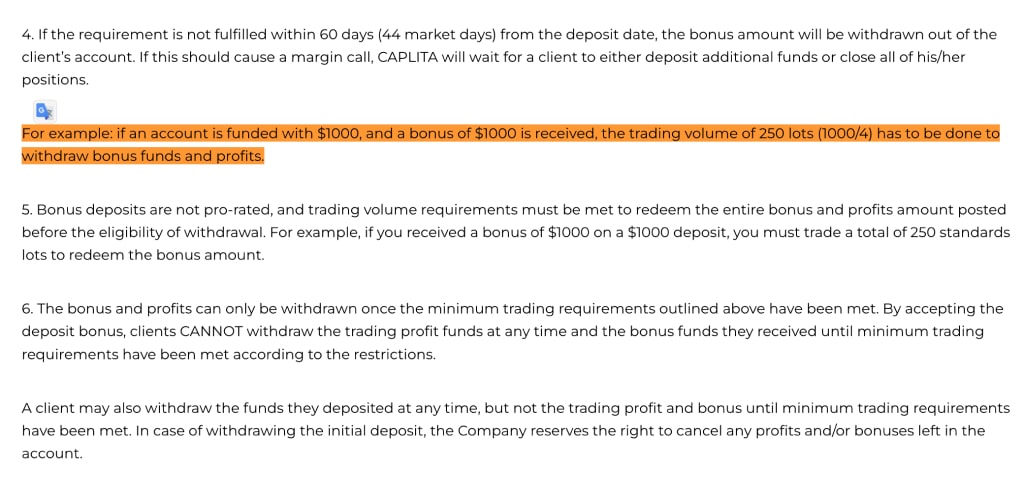 An "easy-to-use and powerful platform" with technical charts and research tools? Award-winning? After all that praise, we get a simple WebTrader. We're beyond disappointed. This rudimental browser-based platform is anything but sophisticated. It's pretty lackluster, to say the least. Moreover, since Conalp is unregulated, the platform could be rigged, i. e. fake.
Can Access The Trading Platform From Mobile Device?
Conalp was pretty inconclusive in terms of its trading platform. We know it is bogus but the shady provider did not mention a mobile version. Nevertheless, even if there was one, we don't recommend it. After all, Conalp is obviously a scam broker.
Which Assets Can The Investor Trade?
According to the website, Conalp offers three asset classes:
Stocks – Google, Apple, Microsoft…
Crypto – Bitcoin & Ethereum;
Commodities.
That's a pretty weak offer if you ask us. No Forex pairs and indices trading? As for the instruments, you can see that Conalp was vague in that department as well. One more reason why this broker shouldn't be trusted.
Where Does Conalp Engage In Fraud? – Countries Of Service
From what we gathered on the fraudster's website, Conalp allegedly provides services in the following countries:
United Kingdom;
Germany;
Poland;
France;
Turkey;
United States.
As we mentioned, out of this list, the three top regulators have no info on Conalp, i. e. the broker is unlicensed. Therefore, it's not eligible to operate under any of these six jurisdictions.
What is more, we strongly advise you not to invest in Eurinvesting, RaiseFX and ProgresiveTrade fraudulent brokers.
Trader's Reviews of Conalp
At the time of this writing, Conalp had three reviews on TrustPilot and seven on ScamAdviser. However, we believe that the ones on TrustPilot are fake, i. e. written by bots. On the other hand, we found four comments on ScamAdviser indicating that Conalp is an outrageous scam. It's enough to have one screaming fraud to raise doubts but four? Case closed.
What Are the Different Conalp Account Types?
When it comes to account types, there are none. Yes, you read that right. Conalp offers only a live account that requires verification and a demo account. Nevertheless, we had to thoroughly search the website to get info on trading conditions since Conalp was lazy enough to lay it all out.
Does Conalp Provide Bonuses?
We couldn't find anything on bonuses. The T&C section has no bonus policy. Regardless, a bit of general info – bonuses are allowed in the US but not in the UK, EU and Australia. Conalp claims to provide services in Europe so it's therefore prohibited from offering bonuses. Keep that in mind.
About Leverage, Spreads and Fees
Allegedly, the leverage cap is 1:10, which is decent, albeit too high for crypto trading. In such a volatile market, regulators have prescribed a max of 1:5. As for the spreads, we failed to find information about them.
There's a $9.95 fee on stock trading, which is relatively high. Plus, the broker says that other fees may apply. Maybe that's why there's no predetermined minimum deposit – because the scammer relies on traders to make profits in order to take its share via high fees.
Minimum Deposit and Withdrawal Terms
As mentioned, there's no minimum deposit. Conalp oddly enough claims that traders aren't required to pay a designated amount. We believe that this is either fake like the rest of the website lies or that the fraudster intends to compensate for it using high fees. Whatever the case is, you must never invest a single dime!
Payment Methods Available
When it comes to payment methods, there's only one – Bitcoin. Despite all the lies about a wide range of methods, we weren't surprised to see only a crypto asset available. Typically, scammers limit themselves to crypto because it allows them to remain anonymous in their plots. Also, these transactions are considered irreversible.
Scammed by Conalp Broker? – Allow Us to Hear Your Story
Falling victim to this foul scheme is no fun at all. We can imagine your frustration. But, you must not despair and instead, try to get a refund. How can that be done? Through crypto tracing, of course!
What Is Crypto Tracing?
Crypto transactions are considered irreversible but that's not really the case. You can contact professional help and trace the payment to a certain crypto wallet within an exchange. Afterwards, requesting a refund is possible. Simply cross your fingers and hope for the best!
Here you can book a free consultation and find out what to do for a start.