Behind the appealing facade resembling the European Union, its values and everything else it stands for, lies a vile scheme. A trap has been laid and the targets have been determined. The goal of the EU Finance Review is to undermine this scam broker's operation and protect people's funds. Without further ado, let's begin exposing this fraud!
In addition to the above, we strongly advise you not to invest inTradereview,Dav InvestandCentral Marginsfraudulent brokers.
| | |
| --- | --- |
| Broker status: | Unregulated Broker |
| Regulated by: | Unlicensed Scam Brokerage |
| Scammers Websites: | eufinance.co |
| Blacklisted as a Scam by: | CNMV |
| Owned by: | EU Finance |
| Headquarters Country: | London |
| Foundation year: | 2022 |
| Supported Platforms: | Web |
| Minimum Deposit: | 250 USD |
| Cryptocurrencies: | Yes – Bitcoin, Ethereum, Litecoin, Bitcoin Cash |
| Types of Assets: | Forex, Crypto, Indices, Commodities, Shares, Metals |
| Maximum Leverage: | 1:400 |
| Free Demo Account: | No |
| Accepts US clients: | Yes |

EU Finance Is An Unlicensed Company And A Scam?
Alright, folks, what do we know about doing business in the UK, the broker's alleged HQ? It's very strict over there with rigid rules one has to follow, right? One of them is to be registered with the country's financial regulator, i. e. the Financial Conduct Authority (FCA) and to be authorized by the same. Guess what? EU Finance is definitely not registered and licensed.
Furthermore, for those living under a rock, the UK officially exited the European Union (Brexit 2020) so why the need to go all out European on the website?
In the legal section, the scam broker says it adheres to the Data Protection Act 1998, which was repealed in the UK by the Data Protection Act 2018. This statement jeopardized the fraudster's hope of seeming legitimate. On top of all that, the Spanish financial regulator blacklisted EU Finance as a scam.
Why Is Trading On a Licensed Broker's Platform Preferable?
As mentioned, no FCA regulation. No records of EU Finance on the websites of other top-tier financial regulators such as ASIC, BaFin, CySEC, etc. We checked. Make sure your broker is authorized by these institutions.
Is EU Finance a Legitimate Broker Or A Fraud?
EU Finance is a broker that seems legitimate even though that's not the case. Aspects up for analysis include the offer, trading platform, accounts, etc.
Warning From the Spanish CNMV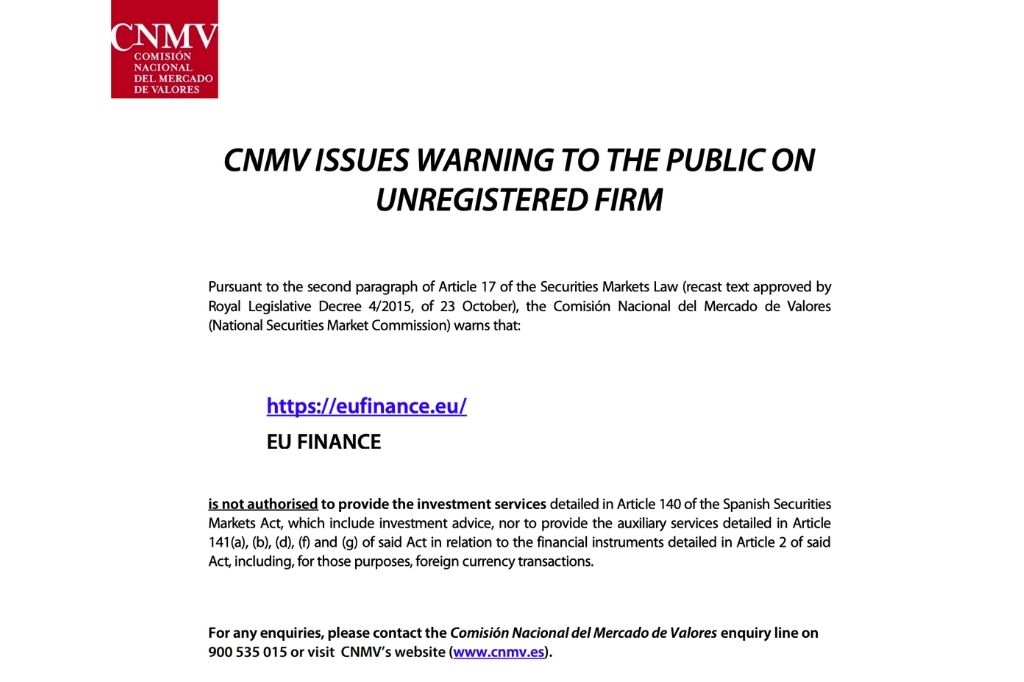 Being blacklisted by a renowned institution such as the Spanish CNMV is not a good look for you. We provided a link to the warning. EU Finance is dangerous. But don't take our word for it, check the link below and you'll see.
What Trade Software Does EU Finance Provide?
When it comes to the trading platform, EU Finance claims it offers a browser-based platform available on Android, iOS and Windows. When the presentation is delivered like that, you ought to think it's a reliable platform, right? Wrong! It's a basic web trading platform like any other that fails in comparison to the industry's leading software (MT4 & 5).
Mobile Trading Apps for iPhone and Android
Again, EU Finance keeps promoting its mobile platforms like they're reliable. "Unrivalled with state-of-the-art graphics and all the functionality that the desktop version provides," the scammer says. It's very hard to equip a mobile platform with all the features that the desktop version offers. Also, these platforms can easily be manipulated to create an illusion of profit.
What Do Traders Think Of EU Finance?
Like many other fraudsters before it, EU Finance included fake testimonials on its website. These contain generic names and fake pictures. One even has a male name with a picture of a girl. Disregard these and instead see what real people had to say about this illicit broker. We checked a few pages that mention EU Finance and found nothing but complaints.
Here's what one dissatisfied trader said – "they make all these promises but once you deposit money they start changing on you more especially when you want to withdraw money they will delay that process for weeks and months."
EU Finance – Countries Of Service
From what we gathered, EU Finance, as its name suggests, targets traders from the European Economic Area (EEA) and Switzerland. In particular, people from Germany, Spain, France, and Austria. In addition, since it claims it operates from the UK, we believe that residents of that country could also be targets.
We have encountered complaints in various languages from English to German and Spanish. This confirms our findings on which residents are being targeted by EU Finance.
What Do We Know About EU Finance Account Types?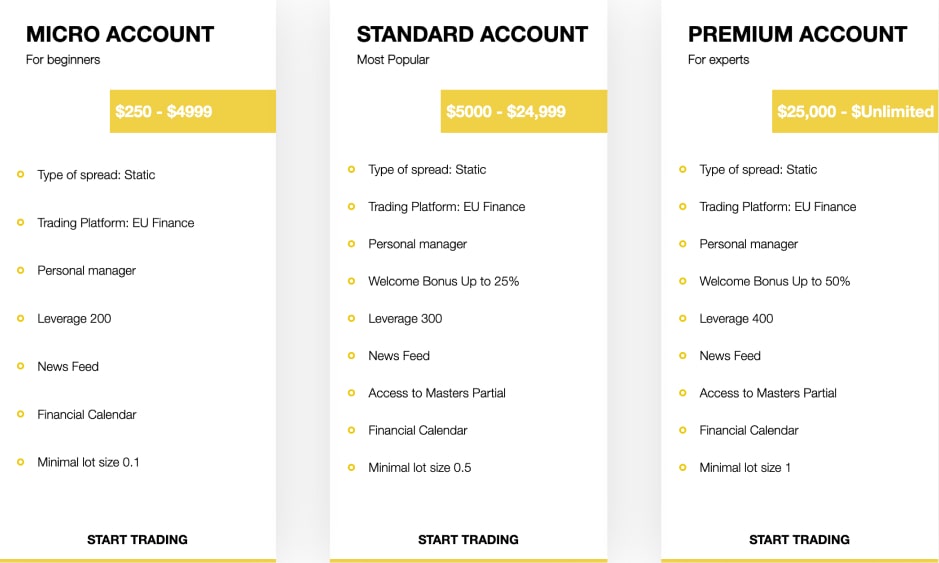 On the website, EU Finance says it offers three unique account types:
Micro account – min. deposit of $250;
Standard account – $5,000;
Premium account – $25,000.
Each of these accounts allegedly offers static spreads and a personal manager. Also, the latter two give away welcome bonuses of 25% and 50%, respectively. The leverage ranges from 1:200 to 1:400.
Can a Trader Use a Demo Account?
For your broker to be reliable, it has to include a demo account. EU Finance said in the legal section that the client confirms that he/she "got an opportunity to trade on a demo platform." This is something even though the lack of info on the website is shady.
Also, remember the names of theAllinvestFX,BUX ForexandRoboFXtradetrading scams and avoid them at all costs! Moreover, always check the background of online trading companies before investing!
EU Finance Minimum Deposit, Withdrawal Terms and Fees
The minimum deposit is $250. Acceptable methods include wire transfers and credit/debit cards. The fee amounts were disturbing – "50.00 USD/GBP/EURO for wire transfers; 25.00 USD/GBP/EURO for credit cards plus a processing fee of 10.00 USD/7.00 EUR/5.00 GBP… Minimum Withdrawal/ Refund for wire transfers is 250.00 USD/GBP/EURO."
When you add to that the fees that banks charge, you'll realize that it's not worth your while to invest with EU Finance. The refund part is just a hoax, you'll certainly never get a refund.
Methods of Making a Deposit
All we found here were credit/debit cards and wire transfers. Nothing unusual but regular brokers include more than these two methods. Also, there's mention of alternative methods but without details.
What Is Known About EU Finance's Trading Conditions?
Spreads are really favorable (0.1 pip on EUR/USD) and the broker promises commission-free trading. If you think this is too good to be true, then you're right. No broker in their right mind would offer such conditions. The leverage far exceeds the level that the UK and EU set as the limit (1:30).
Scammed by EU Finance Broker? – Let Us Hear Your Story
We're sorry to hear that you've been scammed. Don't be ashamed, it could've happened to anyone. We can help you by reporting the scammer and informing you that you can get your money back. Simply request a chargeback or a recall.
But What Is A Chargeback And A Recall?
You request a chargeback for card transactions at the issuing bank. It must be done within 540 days. For wire transfers, you can demand a recall to reverse the transaction, provided that it has not been completed. Hence, you must act quickly.