FastEarnings247 is an offshore broker that claims to be owned by FastEarnings247 Markets Limited. The company is allegedly registered in Nevis and is supposedly a member of the Financial Commission. Based in Hong Kong, FinaCom is an independent external dispute resolution organization. This statement is, of course, a lie because there is no such broker under FinaCom's online registry.
| | |
| --- | --- |
| Broker status: | Offshore Broker |
| Regulated by: | Unlicensed Scam Brokerage |
| Scammers Websites: | fastearnings247.com |
| Blacklisted as a Scam by: | N/A |
| Owned by: | FastEarnings247 Markets Limited |
| Headquarters Country: | Nevis |
| Foundation year: | 2005 |
| Supported Platforms: | Web Based |
| Minimum Deposit: | $200 |
| Cryptocurrencies: | Yes |
| Types of Assets: | Shares, Forex, Cryptocurrencies |
| Maximum Leverage: | N/A |
| Free Demo Account: | Yes |
| Accepts US clients: | No |

Is FastEarnings247 a Broker With a Good Reputation?
FastEarnings247 says he is, but the broker also claims to be a licensed company and that is not true. This so-called brokerage firm is not a legit broker, meaning that they are not registered under any legal financial body of authority and this fact alone should be a major warning sign. The funds are directly at risk, the clients are not protected and there is a big chance that you will end up as a victim of a fraud. Before we move on any further let's look into some differences and risks between licensed and unlicensed brokers.
FastEarnings247 is an offshore, unlicensed broker that claims to be located in Nevis. The company is offering 4 account types and the minimum deposit is $200. They are using Return of Investments as a way of scamming. The company also lied about being a member of FinaCom.
Risks of Dealing With Unregulated Brokers
Regulation of the company is something that gives legal credibility to the broker, the firm is obligated to follow strict rules and certain criteria must be met. For example, all companies that are registered under the FCA agreed that every client is insured up to 85 000 GBP if the company goes under, there is a leverage restriction that is protecting the client's funds. And there is also a negative balance protection and segregation of the accounts. Everything is done for the safety of the clients and you will not get that with the scam broker such as FastEarnings247.
To add to the foregoing, we strongly advise you to ignore brokers such as Smart Trade CFD, ZeraTrade, and CXChainxbt.
FastEarnings247 License
The company has none. The FastEarning247 broker is not registered under the FCA, BaFin, or ASIC. The firm doesn't have Tier1 Regulation. This is not a safe broker and you shouldn't invest your money with this fraudulent company.
Traders' Experiences With FastEarnings247
This is just one of the many comments on the FastEarnings247 broker you will find online:
"Not a good place to invest your savings, they didn't process my withdrawal order and I was ignored by the manager. My money was tracked and returned by the agency today"
– Trustpilot Customer.
This is what scamming companies do and they do it very well, beware!
FastEarnings247 Offers MetraTrader 4 and MetaTrade 5?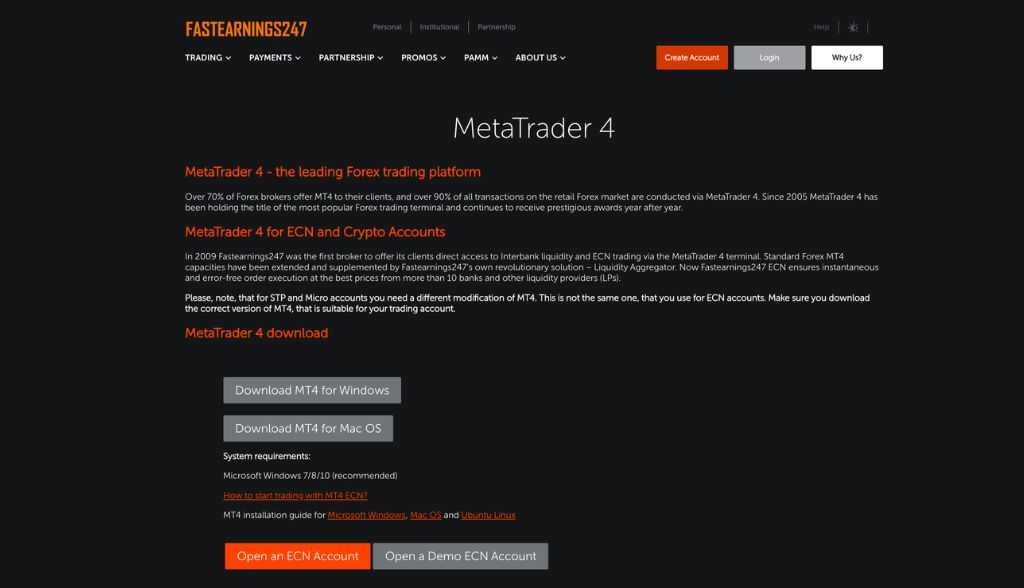 This so-called broker allegedly offers two powerful trading platforms MetaTrader4 and MetaTrader5 and they also have a web based trader and mobile trading app. However there is a catch with the first two options, the MT4 and the MT5 are not downloadable. And here is what is going to happen after registering an account: the client will not be offered any trading software at all. Another red flag for FastEarnings247.
FastEarnings247 Web Platform
The platform can not be used for actual trading, there is only a TradingView chart that has third-party quotes and this means nothing. Yet the company claims they are offering both MT4 and MT5 multi-functional platforms with a wide range of technical tools. This is another obnoxious lie and FastEarnings247 has just too many.
Please remember the names of the ProfiTrade247, Invest Flow, and Fin Venture and stay away from them! Before investing, always check the history of online trading organizations!
Overview of FastEarnings247 Accounts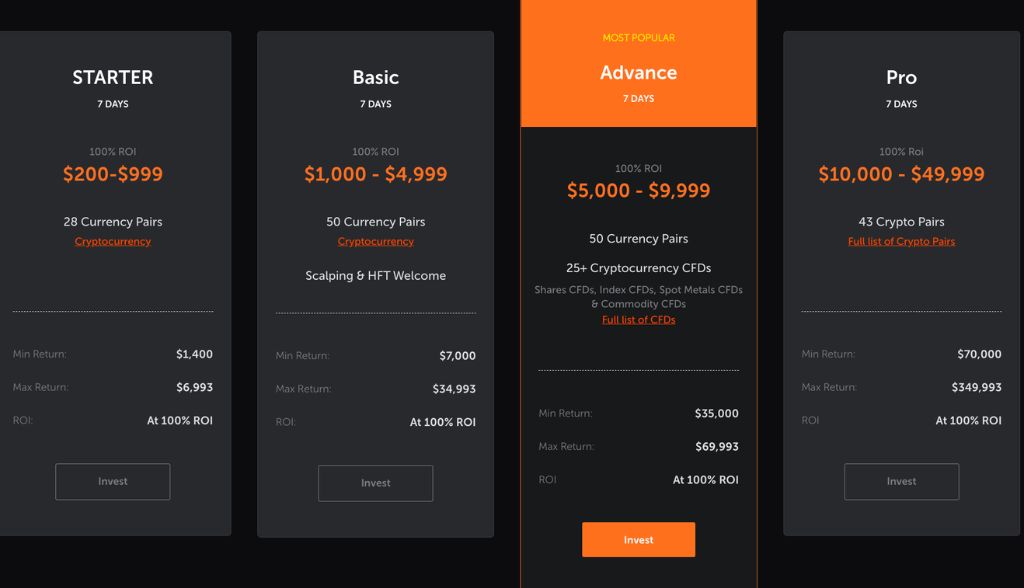 The company is offering four types of accounts:
Starter
Basic
Advance
Pro
Accounts
There is no information on leverages or pips. The minimum amount for the investment is $200 and deposit for the Pro package is $10,000. Each account has its own conditions, with the Starter package you can only trade with 28 cryptocurrency pairs and Basic will buy you an additional 22 more. On top of this the company is offering return on investment, however…
FastEarnings247 Investment Plan – Return on Investment
Each account comes with certain returns of investments (ROI). If a client takes the Starter package and deposits $200 he can expect a minimum return of $1400 to $6,993. These returns can not exist without significant risk exposure and information about that is non-existent. This is a great way for the scammer to trick a client and this is just one of the many reasons why you shouldn't work with FastEarnings247.
FastEarnings247 Deposit, Withdrawal Methods And Fees
As we already mentioned the minimum amount for deposit is $200 and the only way for depositing is via BitCoin. This method is not very trustworthy and here is why: the cryptocurrency transactions are not traceable. Also, they are final, meaning that there can not be refunds. This payment option is perfect for the scam broker, don't fall for this!
Scammed by the FastEarnings247 Broker? – Let Us Hear Your Story
If you were scammed by the FastEarnings247 broker let us know! Click on the link below and register today! Being a victim of a fraud is not easy, unfortunately it happens too often. However you are not alone in this, our well experienced team will provide you any help you need in order to get your funds back!