At first glance, we weren't astonished by the Invest Kingdom. The website seems shallow with crucial information, and that's usually the first red flag. Additionally, there are no Terms and Conditions, implying that the company doesn't follow any guidelines. Instead, they can do whatever they please.
Read our detailed Invest Kingdom review and you'll find everything.
What is more, we strongly advise you not to invest inBullden,Cryptos CircusandMilleniumOnefraudulent brokers.
| | |
| --- | --- |
| Broker status: | Unregulated Broker |
| Regulated by: | Unlicensed Scam Brokerage |
| Scammers Websites: | investkingdom.net |
| Blacklisted as a Scam by: | BaFin |
| Owned by: | N/A |
| Headquarters Country: | N/A |
| Foundation year: | 2022 |
| Supported Platforms: | WebTrader |
| Minimum Deposit: | 250 USD |
| Cryptocurrencies: | Available – BTC, XRP, LTC |
| Types of Assets: | Forex, commodities, indices, shares, cryptocurrencies |
| Maximum Leverage: | 1:1000 |
| Free Demo Account: | Yes |
| Accepts US clients: | Yes |

Is It Possible to Make Money On The Invest Kingdom Platform?
Virtually, it's possible. However, the issue will arise when an unsuspecting victim tries to withdraw this same profit.
Invest Kingdom is an anonymous trading firm. There's no official owner or legal jurisdiction, making legal action nearly impossible.
If you invest your hard-earned money with this bogus website, you have no guarantees that it'll be returned. Upon checking major Tier1 databases by the UK FCA, Australian ASIC, German BaFin, and more, we haven't found any traces of Invest Kingdom's license. Therefore, no regulator will take responsibility for reimbursing victims.
Reasons Not to Trust an Unlicensed Broker
Unlicensed brokers don't follow any legal prerogatives. In fact, they don't even need T&C or other legal documents. They can do whatever they like with clients' funds, including vanishing, and nobody can stop them.
Legitimate firms have various mechanisms ensuring legal business and fund protection. That's why when choosing a firm, finding one licensed by Tier1 authorities is a must.
​​Is Fx24trade a Legit Broker or a Scam?
Invest Kingdom is an anonymous online trading brokerage. The firm is not licensed and operates unauthorizedly. The German regulator issued an official warning against the scam.
Warnings From Financial Regulators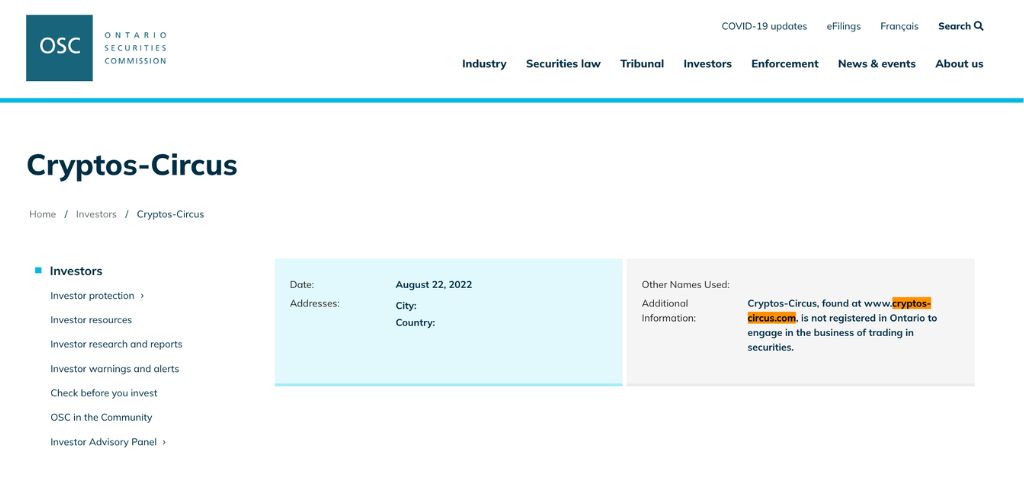 Before changing its domain, Invest Kingdom operated under investkingdom.co. The German BaFin has added this domain to its blacklist, along with Bitcode Prime, a fraudulent ad through which the broker was advertising its business.
Both websites are strictly monitored, and the German Federal Criminal Police has started an official investigation.
What Do Traders Think Of Invest Kingdom?
Numerous victims have filed complaints against Bitcode Prime and Invest Kingdom. Apparently, the ad was promising large profits from investing, a typical get-rich-quick scheme. Once naïve investors signed up, they were pressured to deposit more and more.
Of course, when they requested a payout, the fraudulent broker simply froze their investment accounts and stopped taking their calls.
What Platforms Does Invest Kingdom Offer? – Available Trade Software
Invest Kingdom offers a web-based trading platform. It's quite alright for basic trading but lacks advanced features. For instance, it doesn't support social trading or EAs, meaning clients can overview the market and apply basic strategies.
One such software can never be compared to what traders can get using MetaTrader. Both versions, MT4 and MT5, have their set of advantages and are far more reliable than any WebTrader.
Invest Kingdom Accounts Overview
The firm offers 6 account types, those being:
Main – $0
Bronze – $2,500
Silver – $10,000
Gold – $25,000
Platinum – $50,000
VIP – $100,000
Each account brings more advanced trading sessions with different-level analysts. The Main account enables only Forex trading, while each higher account provides access to one more asset. Customers can trade all instruments starting with the Gold account.
Invest Kingdom Broker – Countries Of Service
According to Invest Kingdom reviews, this broker mainly operates in:
Australia
Germany
Poland
US
Saudi Arabia
UK
We're expecting other regulators to join German BaFin and warn the public about this notorious scammer.
Also, remember the names of theAFX Trade LLC,SinaraCorpandArkcointrading scams and avoid them at all costs! Moreover, always check the background of online trading companies before investing!
Invest Kingdom Range of Trading Markets
The company enables trading in the following markets:
Forex – EUR/USD, GBP/CAD, USD/ZAR
Commodities – gold, natural gas, palladium
Indices – NASDAQ, FTSE100, DAX30
Shares – Nvidia, Google, Asus
Cryptocurrencies – BTC, BNB, DASH
In addition, the broker advertised indexes on NFTs. Yet, the platform overview doesn't show us this option, so we're unsure how you can enable it.
What Is Known About Invest Kingdom's Trading Conditions?
Trading conditions, spread and leverage, assess trading risks and costs. The spread indicates how much you'll be charged per trade and the leverage shows the level of risk your funds are put at. Usually, scheme brokers compete by offering low costs and higher leverage. Invest Kingdom is no exception.
About Leverage and Spreads
The leverage goes up to 1:1000, according to the FAQ section. Knowing that EU and UK regulators have a limit of 1:30, while US and Canadians set it to 1:50, we can already see the risk imposed by the Invest Kingdom.
On the other hand, the spread is quite competitive, starting at 1 pip for EUR/USD pair. So, this is below the industry average and is used as a lure.
Invest Kingdom Minimum Deposit and Unfavorable Withdrawal Terms
While the Account Types section shows that the Main account starts with $0, the FAQ states that you need $250 to open an account and start trading. As per withdrawal, no legal documents would help us out. It's stated that customers need to have verified accounts, and the verification takes up to 72h.
Minimum Withdrawal Amount
The minimum withdrawal is set to $1, except for the wire transfer. In this case, you need at least $300 to be eligible for a payout. Also, this is quite limiting and unfair, indicating that you must deposit more to reach the amount. 
Methods of Making a Deposit
According to their website, customers have 3 options:
Debit//credit cards
Wire transfer
Cryptocurrencies
If you try to use any option other than crypto, you'll be redirected to a third-party website to purchase crypto using a card or bank transfer and then deposit. Practically, each deposit is made via crypto, the only nearly untraceable payment method.
Scammed by Invest Kingdom Broker? – Let Us Hear Your Story
If you were scammed by the Invest Kingdom, let us know. Our recovery specialists may be able to assist you with the issue and help you get your money back. Don't give up, and don't let scammers run. Crypto transactions are hard to track, but it's not undoable.
Contact us now to book a free consultation, and let's start!