MorganFinance represents its brand as financial services offered exclusively by professionals. Yet, this group of pros failed to get a license for financial advising and providing Forex and CFD trading.
Our detailed MorganFinance review will show you how these people operate and who's behind the scenes. Make sure to take notes.
What is more, we strongly advise you not to invest in XTB Global, Snagquan and ProgresiveTrade fraudulent brokers.
| | |
| --- | --- |
| Broker status: | Offshore Broker |
| Regulated by: | Unlicensed Scam Brokerage |
| Scammers Websites: | morganfinance.trade |
| Blacklisted as a Scam by: | N/A |
| Owned by: | Effervescent Group Ltd |
| Headquarters Country: | Saint Vincent and the Grenadines |
| Foundation year: | 2022 |
| Supported Platforms: | WebTrader |
| Minimum Deposit: | 250 USD |
| Cryptocurrencies: | No |
| Types of Assets: | Forex, stocks, commodities, indices |
| Maximum Leverage: | 1:300 |
| Free Demo Account: | No |
| Accepts US clients: | No |

How Safe and Secure is MorganFinance a Broker?
MorganFinance is a brand of Effervescent Group Ltd, registered in 2021 in Saint Vincent and the Grenadines. Once established, the parent company opened a website under the domain morganfinance.trade in February 2022.
Since SVG doesn't have a financial regulator, instead just the company register, we've searched for MorganFinance regulation elsewhere. After checking the databases of the FCA, ASIC, BaFin, CONSOB, and numerous others, we found nothing.
It's a clear indicator that MorganFinance is not a genuine trading brokerage and that your funds are not safe.
Reasons Not to Trust an Unlicensed Broker
Unlicensed brokers pose a danger to your funds. If there's no supervisor to their activities, financial firms can declare bankruptcy or simply disappear, and you won't see a penny back.
On the other hand, legitimate brokers have numerous tools to prevent risks, such as participation in the regulator's compensation scheme, negative balance protection, and leverage cap.
So Is MorganFinance a Decent Broker or a Scam?
MorganFinance is an offshore trading firm registered in Saint Vincent and the Grenadines. The website has been active since February 2022, and there are already numerous negative reviews. The trust index is low.
What Do Traders Think Of MorganFinance?
As usually happens with scammers, MorganFinance earned negative reviews quite quickly. Clients have reported withdrawal issues and blocked accounts. Typically, scammers prevent their customers from getting paid by freezing their access to accounts and money.
If you notice that you cannot log in to your trading account for more than a few hours and there's no valid reason for it, make sure to report the fraud.
Trading Platform From MorganFinance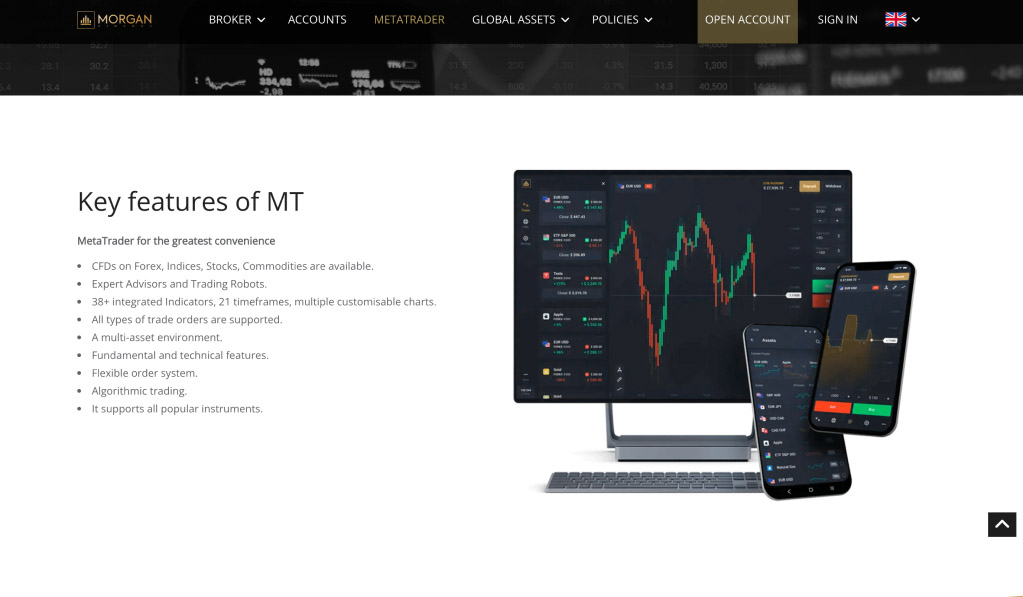 On its website, MorganFinance advertises MT4 and MT5. You can find characteristics of both software, and the firm praises them highly. However, when talking about the software they provide, it's vaguely written MT without specifications.
Once we registered an account, we got access to the basic WebTrader. This software is not nearly close to MetaTrader and has no advanced tools.
Financial swindlers often abuse the name MetaTrader, luring customers into investing. Since there's no Demo account, the only way to find out what you'll be offered is by paying the money first. And then, it's too late.
MorganFinance Accounts Overview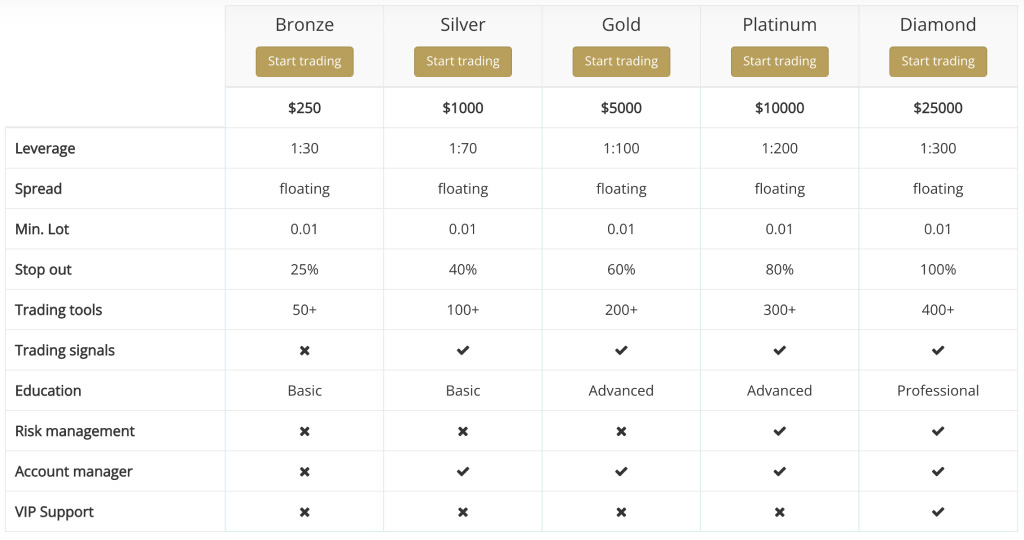 The brokerage offers five account types. These are:
Bronze – $250
Silver – $1,000
Gold – $5,000
Platinum – $10,000
Diamond – $25,000
Each account allegedly gives access to more trading tools. Trading signals are enabled from the Silver account, while Platinum and Diamond members can get risk management tools as well.
Customer Support – Communication Channels
MorganFinance customer support will use various communication methods to persuade you to deposit. They can contact you via phone, email, WhatsApp, or Telegram.
Be on the lookout for scammers. They may approach you via social media or dating apps if you have never registered for online trading. They'll promise you anything, even if it's clearly too good to be true. This is how you'll recognize scammers.
MorganFinance – Countries Of Service
The broker provides its services mainly in:
Yet, victims can be found all over the globe. Make sure not to become one of them and avoid fraudulent platforms such as this one by all means.
Also, remember the names of the CoinmasFX, Trade Unity and Brokeragea trading scams and avoid them at all costs! Moreover, always check the background of online trading companies before investing!
MorganFinance Range of Trading Markets
In the unlikely event that you're still interested in MorganFinance, here's an overview of trading assets.
Currency pairs – EUR/USD, GBP/AUD, USD/ZAR
Commodities – palladium, corn, sugar
Indices – DJIA, BE20, IBEX35
Shares – Amazon, Netflix, Microsoft
Cryptocurrencies are not on offer.
What Is Known About MorganFinance's Trading Conditions?
Trading conditions can tell a lot about the broker. If the leverage is unregulated, it means that the firm is unlicensed as well. On the other hand, if the firm charges high fees and spreads, it's not good for you as a customer.
Here's what we know about MorganFinance's trading conditions.
Too High Leverage and Spreads
The leverage ranges from 1:70 to 1:300. If you need proof of illegal business, here it is. The regulatory cap in the EU and UK is 1:30, while in the US it is 1:50.
The spread starts at 3 pips for the EUR/USD pair, double the industry standard.
MorganFinance Minimum Deposit, Withdrawal Terms, and Fees
The broker's minimum deposit is $250, or the equivalent in EUR or GBP.
According to Withdrawal Policy, there are no fees by the broker, but the bank might charge their commission. The withdrawal request should be processed within 7 business days.
Note that if you accept any bonuses, you won't be able to request a withdrawal before reaching 25 times the deposit plus the bonus amount.
Methods of Making a Deposit
The deposit can be made via:
Debit/credit card
Wire transfer
Crypto wallet
If you are keen on investing with this firm, we advise you to use your credit card. That way, you're protected by the chargeback policies.
Scammed by MorganFinance Broker? – Let Us Hear Your Story
If MorganFinance scammed you, don't hesitate to report it. Many people suffered monetary losses because of this same broker.
Our chargeback experts may evaluate your case during a free consultation to assist with fund recovery. Contact us now to book an appointment!
But What Is A Chargeback?
This is a way for your bank to reverse the transaction and recover stolen funds. Instead of letting scammers run free, you need to fight back. We're here for you!