If nothing, Olympus Brokers is an excellent example of what a trading scam looks like. It's unregulated, banned by regulators, and there are plenty of negative reviews. The firm has all the red flags a potential investor should look for.
Our detailed Olympus Brokers review will elaborate on all the issues and give you hints on how to recognize and avoid fraud.
What is more, we strongly advise you not to invest inTradeSimple,AF GroupandFutureProfitfraudulent brokers.
| | |
| --- | --- |
| Broker status: | Unregulated Broker |
| Regulated by: | Unlicensed Scam Brokerage |
| Scammers Websites: | olympusbrokers.com |
| Blacklisted as a Scam by: | CONSOB |
| Owned by: | Olympus Ltd |
| Headquarters Country: | Canada (allegedly) |
| Foundation year: | 2022 |
| Supported Platforms: | Proprietary platform |
| Minimum Deposit: | 250 USD |
| Cryptocurrencies: | Available – BTC, XRP, LTC |
| Types of Assets: | Forex, commodities, indices, shares, cryptocurrencies |
| Maximum Leverage: | N/A |
| Free Demo Account: | No |
| Accepts US clients: | Yes |

Is Olympus Brokers a Regulated Broker?
Olympus Brokers says to be owned by Olympus Ltd, registered in Canada. However, the Terms and Conditions and other legal documents don't answer the regulation question.
Canada has one of the strictest financial controls, with each state having its own regulator. Based on the address in Ontario, Olympus Brokers should be licensed by OSC. But it's not.
Moreover, the broker is not licensed by the FCA, ASIC, CONSOB, BaFin, or any Tier1 authority. Financial services are provided unsupervised, and you have no money-back guarantee if something goes wrong.
Reasons Not to Trust an Unlicensed Broker
Unlicensed brokers have no obligations toward customers. Instead of offering reputable market solutions, they care only about themselves. Olympus Brokers is the best example, offering unregulated trading terms and proprietary tools.
All this means you have absolutely no fund security, and the company can vanish anytime with your funds.
Olympus Brokers is not a legitimate financial services provider. The company has been blacklisted in Italy after a number of scam reports. Negative reviews indicate lots of withdrawal issues.
How Reliable Is Olympus Brokers?
Olympus Brokers is not a legitimate financial services provider. The company has been blacklisted in Italy after a number of scam reports. Negative reviews indicate lots of withdrawal issues.
A Warning to Olympus Brokers by CONSOB Italy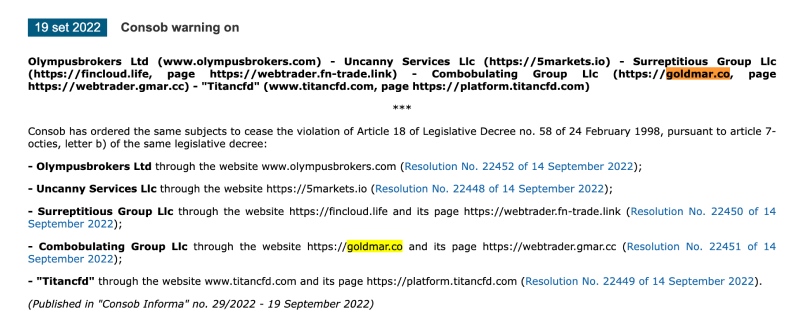 CONSOB issued a warning concerning olympusbrokers.com. The Italian regulator stated it's a fraudulent domain, targeting Italian citizens.
They further advised anyone who comes across this firm to pass on the offer. No matter how good it may sound, it's not worth the risk.
What Do Traders Think Of Olympus Brokers?
Traders are not quite satisfied with Olympus Brokers. The majority of reviews indicate that recovering your funds from this bogus broker is nearly impossible.
Clients are more than welcome to invest their money and virtually trade. Yet, when they want their profits back, they face one issue – all the trades were virtual, and so was the profit. It was a lure to make them feel comfortable and invest more.
In reality, their access to funds is blocked, and so is the trading account.
Olympus Brokers Trading Platform – Available Trade Software
Olympus Broker offers proprietary WebTrader. The main accent here is on the word "proprietary." Since the broker built the platform, it can access everything through the back door. This opens the possibility for market price manipulation and stealing clients' money.
No matter the platform's features, it's not worth the risk. Instead, you need reliable trading software, such as MT4 and MT5. It offers the largest number of tools and ensures fund safety.
Olympus Brokers Accounts Overview
The company has 5 different Live accounts on offer.
Apprentice – $250
Intermediate – $10,000
Superior – $50,000
Distinguished – $250,000
VIP – Invitation Only
Accounts differ in the number of available trading assets, assistance, and education. Allegedly, VIP account investors are entitled to a debit card by Olympus Brokers, which we highly suspect.
Olympus Brokers Broker – Countries Of Service
The entire website is in Italian, so it's no wonder that Italians are the main target. This is confirmed by the CONSOB warning too. Other than that, this broker mainly operates in:
Also, remember the names of theTradeBaionics,MarketsOctaandCFD Capitaltrading scams and avoid them at all costs! Moreover, always check the background of online trading companies before investing!
Olympus Brokers Range of Trading Markets
Olympus Brokers enables trading in major markets, including:
Forex – EUR/USD, AUD/CAD, USD/ILS
Commodities – gold, corn, sugar
Indices – Dow Jones, NASDAQ, FTSE100
Shares – Adidas, Alibaba, Google
Cryptocurrencies – ADA, BTC, XRP
What Is Known About Olympus Brokers' Trading Conditions?
Trading conditions are vital elements that, along with the regulation, serve to assess the brokerage. You can tell if the broker is too pricey or offers unregulated terms based on spread and leverage. Often, spread below the average indicates that the firm is interested only in your deposit since it's not profiting from commissions.
When it comes to the firm, leverage is unspecified. The spread is under 1 pip. With the average being 1.5 pips for the EUR/USD benchmark, it's clear what's happening here.
Olympus Brokers Minimum Deposit and Unfavorable Withdrawal Terms
The broker requires customers to pay a minimum of 250 USD to start trading. 
The company says that the minimum subscription period for their services is one month. You cannot withdraw your funds before this period expires, which is illegal. Other than that, they provide 3 and 12 months subscriptions and say that refund is impossible before the period is over.
Methods of Making a Deposit
Deposits are accepted via:
Debit/credit card
Cryptocurrencies
Since crypto is a virtually untraceable payment method, there are a lot of questions about it. And the answer is clear – Olympus Brokers wants to vanish and cut you off from the possibility of filing a chargeback dispute.
Scammed by Olympus Brokers Broker? – Let Us Hear Your Story
If you were scammed by Olympus Brokers, let us know. Our chargeback experts will help you request your money back. Don't let scammers run free. Contact us now!
But What Is A Chargeback?
A chargeback is a way for your bank to recover funds directly from the merchant. Contact us via online chat to book a free consultation. Let's start the process before it's too late!