In general, scam brokers are birds of a feather and can easily be distinguished by analyzing their claims about being licensed. NBI Markets is no different. The NBI Markets Review will provide solid arguments to prove that this is nothing else but an outrageous scheme. First things first, let's say something about the scammer's legal status.
What is more, we strongly advise you not to invest inEU Finance,TradereviewandDav Investfraudulent brokers.
| | |
| --- | --- |
| Broker status: | Unregulated Broker |
| Regulated by: | Unlicensed Scam Brokerage |
| Scammers Websites: | nbimarkets.com |
| Blacklisted as a Scam by: | CONSOB |
| Owned by: | NBI Investments Ltd |
| Headquarters Country: | Cyprus |
| Foundation year: | 2007 |
| Supported Platforms: | Web |
| Minimum Deposit: | EUR 250 |
| Cryptocurrencies: | Yes |
| Types of Assets: | Forex, CFDs, Crypto |
| Maximum Leverage: | 1:300 |
| Free Demo Account: | No |
| Accepts US clients: | Yes |

NBI Markets Is An Unlicensed Company And Scam?
We found that NBI Markets is allegedly owned by NBI Investments Limited, based in Cyprus. Upon checking the website of the Cyprus Securities and Exchange Commission (CySEC), you can see that the company indeed exists and possesses a license issued by that regulator.
However, our fraudulent broker's website was not included in NBI Investment's approved domains. Therefore, there's no correlation between these two entities except for a similar name. What's also important to mention is that NBI Markets was blacklisted by the Italian CONSOB.
NBI Markets is an illicit trading firm. The company has been banned in Italy for scam activities.
The Lies About Regulation
Our illicit broker also claims it has been regulated by the UK's Financial Conduct Authority (FCA) for 15 years. By now, you ought to know that this is an outright lie. Check the website of the FCA and you'll see for yourself. That fact eliminates the possibility of this broker having any license whatsoever and proves that we're dealing with a scam.
Warnings From Italian CONSOB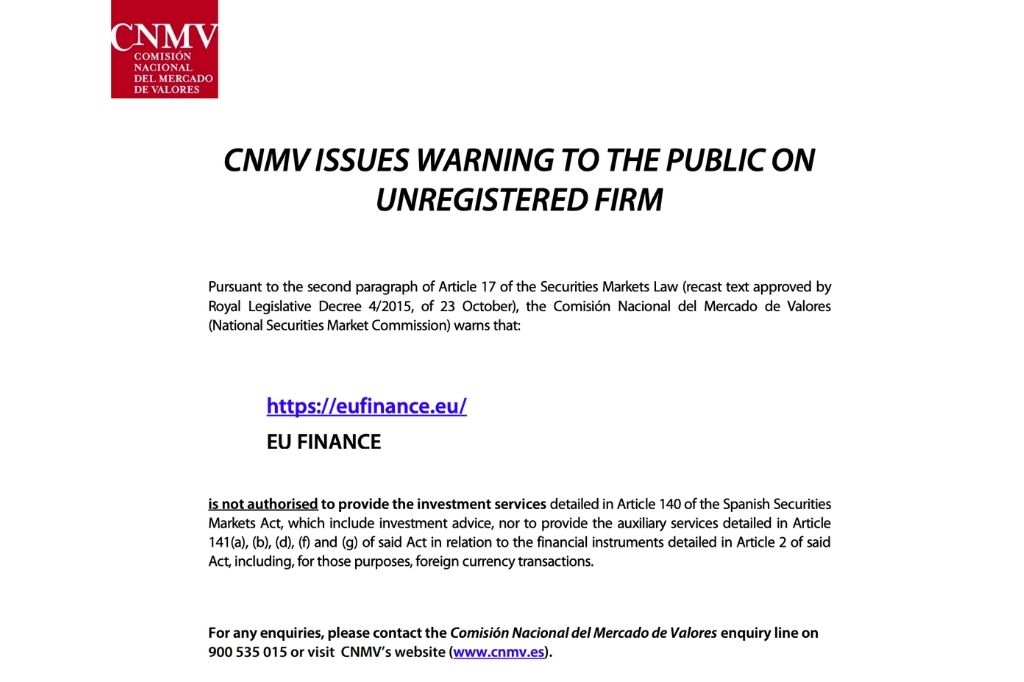 Below, you'll find a link to the warning issued by CONSOB. Having a regulator like that put NBI Markets on its blacklist will hopefully ruin the fraudster's scheme. After reading this, you can sit back and watch the scammer go down in flames.
What Trading Software Does NBI Markets Provide?
Here we have a classic scammer trick where they claim to offer a cutting-edge platform and miserably fail to deliver. You are treated with a simple web-based trading platform that lacks advanced tools and additional features.
If you're serious about trading, this type of platform will do you no good. Instead, opt for legitimate providers that will equip you with either Meta Trader 4 or 5, i. e. the best software.
NBI Markets – Countries Of Service
The website of our fraudulent broker is in Italian. This probably elicited the warning from CONSOB. Aside from Italy, we also found out that NBI Markets targets people from
Albania
the UK
the Netherlands.
Beware of this scheme if the scammer made contact with you.
Also, remember the names of theCloxyields,BUX ForexandProforbextrading scams and avoid them at all costs! Moreover, always check the background of online trading companies before investing!
Forbidden Bonuses
For a broker saying it is regulated by the FCA, or others for that matter, it certainly doesn't care about the rules. We're referring to bonuses here. To reiterate, bonuses are tricky, hence why they were banned by top-tier regulators, including the FCA. Scammers oftentimes include them with multiple strings attached.
What Do We Know About NBI Markets Account Types?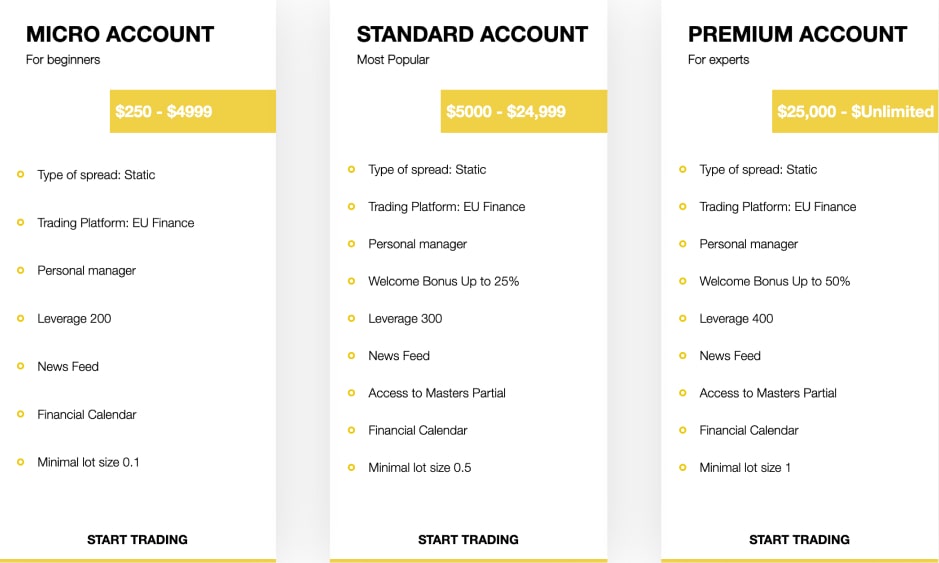 According to NBI Markets' website, the unscrupulous broker offers the following account types:
Micro account – min. deposit of EUR 250, floating leverage, welcome bonus, mini-trading course, personal manager;
Silver account – EUR 5,000, leverage of 1:200, 30% bonus, managed account;
Gold account – EUR 25,000, leverage of 1:300, 30% bonus, managed account.
We get that these scammers are having fun designing these accounts but can't they at least make them a bit more realistic? As we mentioned, bonuses were banned by regulators. Also, you can find much more reliable providers for EUR 250.
NBI Markets Minimum Deposit, Withdrawal Terms and Fees
NBI Markets claims to offer multiple payment methods. These include wire transfers, Neteller, Skrill, PayPal, VISA, MasterCard and Bitcoin. Besides, the minimum deposit is EUR 250. Also, the phony broker charges a USD 50 fee for each withdrawal, provided they allow you to withdraw money in the first place.
Methods of Making a Deposit
We've listed the payment methods above. However, due to the lack of transparency and regulation, we tend to believe that the scam broker simply listed all these methods to seem legit. In reality, the most probable methods include cards, wire transfers and especially cryptocurrencies.
What Is Known About NBI Markets' Trading Conditions?
Here we have more evidence that this is an outrageous scam. Offering leverage as high as 1:400?! This is preposterous considering that both the FCA and CySEC limited the maximum leverage to 1:30 for retail clients. Also, don't pay attention to spreads, we know 0.7 pips looks great but there's no guarantee that it's legit given the broker's illicit status.
Scammed by NBI Markets Broker? – Let Us Hear Your Story
For starters, we do feel sorry for you if you've been scammed by NBI Markets. It must be hard but don't despair. We are here to tell you about three possible methods for getting your money back, i. e. a chargeback, a recall and crypto tracing. The chances may be slim but it's worth giving it a shot!
Chargeback, Recall And Crypto Tracing?
Provided you haven't given the scammers your personal documents, you can request a chargeback for credit/debit card transactions at your bank. This must be done within 540 days. Wire transfers can be reversed via recall but only if the transaction hasn't gone through.
Crypto transactions are problematic, although it's possible to trace them. Once tracked down to a wallet within an exchange, all you have to do is request a refund and hope for the best.