RoboFXtrade is an online binary option trading provider. Since binary options trading was banned in the EU and the UK back in 2018, we wanted to review the business and check its operations. While the company claims to be a legitimate trading service provider, it can't be further from the truth. Here's what we found.
In addition to the above, we strongly advise you not to invest inAxiance,ProforbexandGamma Capitalsfraudulent brokers.
| | |
| --- | --- |
| Broker status: | Unregulated Broker |
| Regulated by: | Unlicensed Scam Brokerage |
| Scammers Websites: | robofxtrade.com |
| Blacklisted as a Scam by: | N/A |
| Owned by: | N/A |
| Headquarters Country: | US and South Africa (allegedly) |
| Foundation year: | 2021 |
| Supported Platforms: | N/A |
| Minimum Deposit: | $100 |
| Cryptocurrencies: | Available – BTC, ETH, XRP |
| Types of Assets: | Forex, cryptocurrencies, binary options on CFDs |
| Maximum Leverage: | N/A |
| Free Demo Account: | No |
| Accepts US clients: | Yes |

Can I Trade Safely On The RoboFXtrade Platform?
RoboFXtrade is an entirely anonymous online trading provider. Allegedly, the company is based in the US and South Africa. For this to be true, the firm would need a license from the US regulators – NFA or CFTC, and the South African FSCA.
Upon reviewing all these registers, of course, we found nothing about RoboFXtrade. In addition, once we tried accessing the broker's website, we were informed that our connection was not private and attackers might be trying to steal information. Thus, we withheld any further attempts.
Reasons Not to Trust an Unlicensed Broker
Besides privacy issues, unregulated brokers are never recommended. While legitimate firms offer different safety mechanisms, such as negative balance protection and a compensation fund, you won't find such features with unregulated scammers. Instead, these companies can vanish anytime, and you will have nowhere to file a complaint since you don't know where RoboFXtrade is actually based and who the owner is.
What Do Traders Think Of RoboFXtrade?
RoboFXtrade has quite a negative reputation among investors. According to reviews, the firm has many issues, mainly withdrawals. Broker employees are doing everything they can to dissuade clients from payouts, and if nothing works, they simply block trading accounts.
If you have experienced any login issues with the broker, it's essential to report them right away.
What Do We Know About The RoboFXtrade Trading Platform?
Frankly, we know nothing. Once we tried registering an account, we could not pass the verification stage. We have never received a confirmation email, while our account showed an invalid password. On the other hand, the website doesn't mention any platforms.
Since we're unsure whether RoboFXtrade offers any trading or is just a bogus scheme to steal your initial deposit, we advise you to stay away. Stick with regulated firms offering reliable trading software such as MT4 or MT5.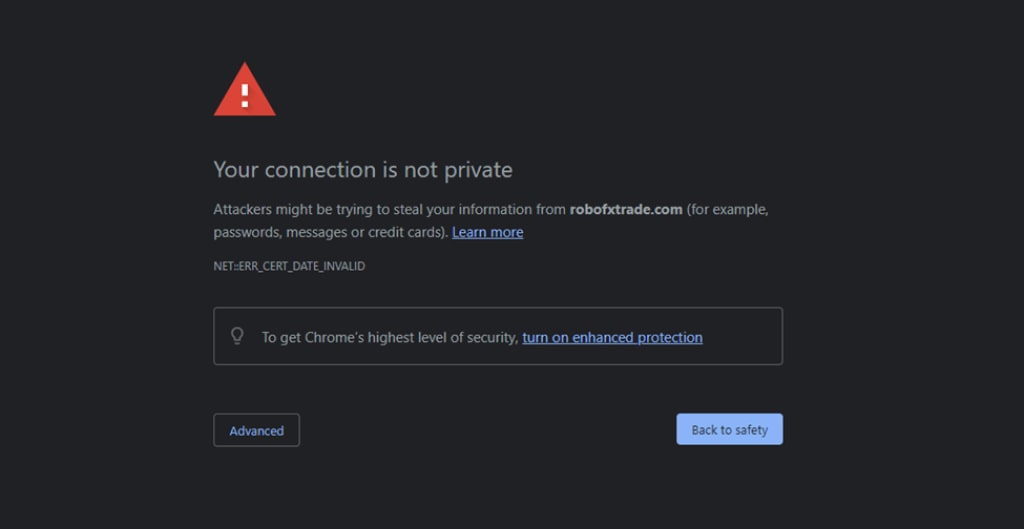 RoboFXtrade Accounts Overview

Instead of account types, RoboFXtrade offers trading plans with guaranteed returns. By this, you already know that the company is a fraud.
Silver Plan – $100, ROI 50%
Gold Plan – $1,000, ROI 60%
Diamond Plan – $6,000, ROI 65%
Premium Plan – $20,000, ROI 70%
Since no legit firm can guarantee you profits, it's clear what kind of a business RoboFXtrade runs.
Can I Try to Trade With a Demo Account?
As explained, we cannot register an account with this firm or pass any further than the login stage. According to reviews, the Demo account is not enabled. If you want to invest, you will have to risk your own funds.
Customer Support – Communication Channels and Service
The broker customer support uses various contact channels, including:
Phone calls
Emails
Telegram chats
WhatsApp messages
Social media
If you wish to contact them, you have the US and South African phone numbers and a support email. While these numbers are unreachable, the support will simply ignore any requests made via email.
RoboFXtrade Range of Trading Markets
RoboFXtrade advertises the following trading categories:
Forex – EUR/USD, AUD/CAD, GBP/CHF
Cryptocurrencies – BTC, SOL, ADA
Binary options on CFDs
Without a trading platform, we cannot verify the offer of CFDs or the truthfulness of any of these statements.
Also remember the names of theGeneticrypto,AxisCapitalandCTsolutionstrading scams and avoid them at all costs! Moreover, always check the background of online trading companies before investing!
What Trading Terms Does RoboFXtrade Offer?
RoboFXtrade has no legal documents and didn't pay too much attention to transparency. We know nothing about trading terms that could help you prevent risks. Leverage, spread, or any fees cannot be found. Of course, this broker has no legal requirements to be open and honest as an illicit firm. That's a reason more to stay away.
RoboFXtrade Funding and Withdrawal Methods
RoboFXtrade ensures that customers know nothing besides the initial deposit. The company requires $100 for the Silver plan, while the minimum withdrawal amount is not specified. Without the Withdrawal Policy, we cannot elaborate on any fees.
Methods of Payment
The company accepts two payment methods:
Debit/credit card
Bitcoin
Note that the latest one is not eligible for a chargeback and is virtually untraceable.
Scammed by RoboFXtrade Broker? – Let Us Hear Your Story
If you find yourself a victim of a RoboFXtrade broker, let us know. Our chargeback specialists will evaluate your case and help you find the best refund method. Don't let scammers run free. Book a free consultation today.
But What Is A Chargeback?
This is a way for your bank to recover the funds directly from the merchant. Contact us immediately, and we'll be here to assist. The sooner we start, the higher the chance of success.